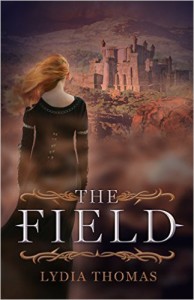 What it's about:
"Three women are lured into a forbidden field by a charming prospector and the promise of buried treasure. Hava, in doing the prospector's bidding, inadvertantly unleashes a battle in the Kingdom, and the consequences of her actions leave her guilt-ridden and isolated. Delilah, daughter of an influential Kingdom ambassador, uses her philosophical wit to recruit treasure hunters to her own cause. Lilly, ever a loner, seizes the opportunity to do something meaningful and be recognized for it. Through their respective encounters with the Field, Hava, Delilah, and Lilly take up their roles in the age-old battle between the King and those who oppose him in ways none of them had planned."
My Review:
I was given a copy of "The Field" in exchange for an honest review.
Wow, I loved this book! One of the best Christian allegories I have ever had the privilege of reading. It tells the story of the ultimate battle, the one for our souls. It clearly portrays our enemy, the Deceiver, and the love of the King. I give it five stars and will definitely be looking for more from this author. No swearing or sexual content, there is violence, but nothing explicit. Good for teens and up.