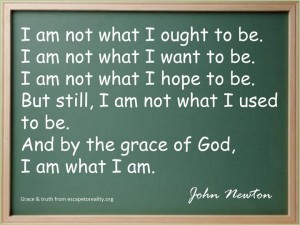 If you've been around for very long in Christian circles or even if you haven't, you've probably heard the phrase, "I am just a sinner saved by grace," usually uttered in false humility, true low self-esteem, or full of pride and bravado. The problem with this saying is that if you are saved, it just isn't true!
Yes, we have all sinned and fallen short of the glory of God, and if we say we have no sin, we deceive ourselves and the truth is not in us (I John 1:8, Romans 3:23). However, once we surrender to the loving Creator of the Universe, the God of Mercy and Truth, He makes us brand new!
II Corinthians 5:17 (Holman Christian Standard Bible), "Therefore, if anyone is in Christ, he is a new creation; old things have passed away, and look, new things have come."
Ezekiel 26:36 (NIV), "I will give you a new heart and put a new spirit in you; I will remove from you your heart of stone and give you a heart of flesh."
We aren't renovated, remodeled, or patched and pieced back together. We are brand new. Not made from old junk, but made of all new material. We are born of heaven now. The Kingdom of God is in us! There are no sinners in the Kingdom of God, and the Kingdom of God is not in a sinner.
Luke 17:20-21 (ASV), "And being asked by the Pharisees, when the kingdom of God cometh, he answered them and said, The kingdom of God cometh not with observation: neither shall they say, Lo, here! or, There! for lo, the kingdom of God is within you."
Jesus who was sinless, through the finished work on the cross has made me righteous. I have been brought out of darkness into His light. I have been adopted into his family and am now a son/daughter of God. He was the firstborn of many brethren. I am one of those brethren. Not because I am something special, or because I deserved it, or earned it, just because He loves me. I could have never fixed my life, or made my heart brand new. Only He could, and He did. He said, "It is finished."

II Corinthians 5:21 (KJB), "For he hath made him to be sin for us, who knew no sin; that we might be made the righteousness of God in him."
Ephesians 2:8-10 (NIV)," For by grace you have been saved through faith; and that not of yourselves, it is the gift of God; not as a result of works, so that no one may boast. For we are His workmanship, created in Christ Jesus for good works, which God prepared beforehand so that we would walk in them."
When I was born, I was born into sin, into this world and under the ruler of this world. By no choice of my own, Satan was my "father." Thankfully, I gave my life willingly to a new and better Father. He rules with Love and Peace, not fear and hate. Once I was born again, or born from Heaven, I received as a gift, the nature of my new adopted Father. I have the nature of God, not the nature of my old father (Satan). I don't have two natures. Just like a cat can't have a nature of a dog. There is no place for false humility, and if you are saved you should find an abundant amount of confidence in Him. There is no place for pride, we can't boast. Pride is sin, plain and simple. When we have the attitude that we are "sinners saved by grace" we want to boast about our sin, how horrible we were. We also want to justify any sin that we still commit. "Of course I sin, I'm just a sinner saved by grace."
Romans 8:17 (ASB), "Now if we are children, then we are heirs–heirs of God and co-heirs with Christ, if indeed we share in his sufferings in order that we may also share in his glory."
I am still alive, in a fallen world, and Satan is still alive and active in this world. My spirit is willing, but my flesh is still weak. So yes, I will sin until I die. However, it doesn't happen as often, and I don't let it keep me back. It doesn't make me a "sinner." (Using a butter knife to remove a screw does not make it a screw driver.) If there was nothing I could do before I was saved to make me a saint, why would anything I do after I am saved make me a sinner? Now when I mess up I repent and move on. Each day I am getting more and more like Jesus. God forgives and then doesn't remember the sin ever again. When He looks at me, He doesn't see my past sins, He sees his son/daughter. He sees a joint heir with Christ, a co-laborer with Him.
David questioned God about being so focused on us, just human beings. Before Jesus died for the sins of the world, before redemption and restoration, God was "mindful" of us. We were in a class just a little beneath the angels. Angels and humans alike are created beings.
Psalm 8:5 (NIV), "You have made them a little lower than the angels and crowned them with glory and honor."
Now that I am accepted in the beloved, adopted into His family, and am the body of Christ and His bride, I am in a different class. Now I am in the same class of Jesus. I am not deity, never will be, but I am still seated in Heaven with Him. Now those same angels are here to serve me. They aid and protect me, and they minister in my life according to the perfect will of God.
Hebrews 1:13-14 (NIV), "To which of the angels did God ever say, "Sit at my right hand until I make your enemies a footstool for your feet"? Are not all angels ministering spirits sent to serve those who will inherit salvation?" (Emphasis mine)
Now I am a SAINT. You don't, or can't earn sainthood. It's not something that you become once you perform certain tasks and then die, hopefully to have the church recognize you later and label you "saint." When I accepted Jesus as my personal savior I became a saint. The veil was torn, I now have free access to the Father and He calls me a saint.
Philippians 4:21 (NASB), "Greet every saint in Christ Jesus. The brethren who are with me greet you." (Again emphasis mine)
Greet every saint, every believer, every follower of Christ, every Son of God, every member of the body of Christ, that's who Paul was talking about. Other versions say, "God's people", "God's holy people", and "Every one who believes in Christ."
We need to be sure of who we are! We waste time and energy if we don't. How can we walk in the power and authority given to us by God if we want to identify ourselves with who we were before we met Him? Does a butterfly fly around saying, "I am just a caterpillar with a fancy set of wings?"
Yes, I was a sinner, but now through the finished work of Jesus on the cross, by His grace, I am now a saint.
Who are you?