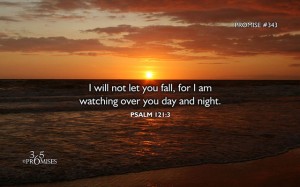 Psalm 33:18 (NIV), "But the eyes of the LORD are on those who fear him, on those whose hope is in his unfailing love,"
Genesis 28:15 (NIV), "I am with you and will watch over you wherever you go, and I will bring you back to this land. I will not leave you until I have done what I have promised you."
That is pretty comforting that our Heavenly Father is watching over us. Especially the part about "until I have done what I promised!" But, is He watching us all in the same way? He loved everyone. There is not one person exempt from His unfailing love. In fact nothing can separate us from His love. (Romans 8:31-39). However, according to verse 18 in Psalms, His eyes are on those who hope in His love. What does that mean? Though God loves everyone, He especially watches over His children (those who have given themselves to Him.) Then going a step further, He is looking for those who fear Him, who trust Him, and those who expect Him to "do all that He promised."
God can work in the lives of those who are trusting in Him!
Verses 20-22 go on to say, "We wait in hope for the Lord; he is our help and our shield. In him our hearts rejoice, for we trust in his holy name. May your unfailing love be with us, Lord, even as we put our hope in you."
Notice it doesn't say that we need to try and "make something happen." It also does not say that our hope is in our own effort, or our job, or our family, our church, the government, or the lottery. Our hope is in Him! Nothing else can fulfill those promises that He made us. The bible is so full of promises, thousands, literally. Only He can perform them. Only He can finish what He has started.
Is it important to place our hope and trust in Him?
Psalms 33:20 in the KJV and also the NAS use the word "according" after love. His love is with us according to our hope and trust. Do you hope a little, trust even less? That's how much His love is with us. Not because He loves us less, but because we won't accept His love and blessings if we don't trust Him. It's not Him, it's us that fails.
Finally, let's look at the same scripture in the Amplified version.
"Let Your mercy and loving-kindness, O Lord, be upon us, in proportion to our waiting and hoping for You."
That says it plain and simple.
He is watching over us! He so wants to bless us. His desire is for us to have an abundant life. For us to live out of His provision and not out of our own effort. Yes, we do have to work, and we should be diligent and honest in our labor, but don't ever look at your own work as your source.
Trust Him! He is able.