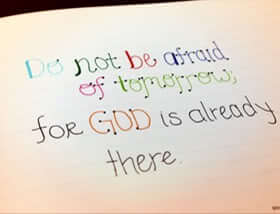 Jehovah God, Our Heavenly Father, is not some cold, uncaring deity who is distant and aloof.
My God cares about me. He cares about you. He cares about every living thing, but He cares most about people.
How do I know that?
He collects my tears in a bottle. (Psalms 56:8)
He knows when a sparrow falls, tells me I am more important than a bird, and counts the number of hairs on my head. (Matthew 29:29:30)
He sings and rejoices over me. (Zephaniah 3:17)
He answers me when I call. (Psalm 120:1)
Here are a few other scriptures that need to be read in full:
Psalms 140:12 (AMP), "I know and rest in confidence upon it that the Lord will maintain the cause of the afflicted, and will secure justice for the poor and needy [of His believing children]."
Psalms 103:6-8 (NIV),"The Lord works righteousness and justice for all the oppressed. He made known his ways to Moses, his deeds to the people of Israel: The Lord is compassionate and gracious, slow to anger, abounding in love."
Jesus said that He came to show us the Father. Jesus was a man filled with compassion. He wept when His friend Lazarus died, even knowing that he would be raised. The pain of Lazarus' sisters brought tears to His eyes. He wept over Jerusalem. He had compassion on the multitudes and made sure that they had food, creating a miracle feast out of a few scraps of food.
The best proof of God's care for us is the fact that He made a way to redeem us from our sins. He sent His only son, who offered up Himself, to die for us. He paid our penalty. One we could never repay. Then He rose again and ascended to Heaven so that the Father could send us His Holy Spirit. He refused to leave us comfortless. Why would we need any further proof than that?
Feeling like no one cares?
He does. More than you could ever comprehend.