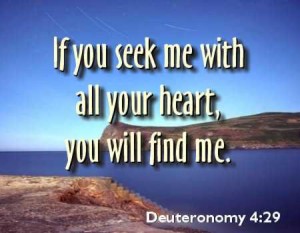 In today's world people search for all sorts of things such as: money, fame, freedom, entertainment, a purpose for their existence, and often just a way of escape from reality. None of these things are necessarily bad, but as an ultimate goal they will all fall short. As the human race we have lost our way. The plan and the path that God had intended for us all is scarcely populated. Yes, all of those who don't know Him are obviously on the wrong path, but what about those of us who call Him our Father and our Lord? Are we sure we are still on His path? What are we moving toward? What are we looking to find at the end of that path?
Some of us, who say we love Him, are still looking for the easy way. We want the path with the least resistance. We want to jump on a skate board and just coast downhill till we reach that finish line of ease and comfort. There is a finish line for us all and it is glorious on the other side. However, we need to look at life not as just a means to an end, but what we do now matters! I wish I had a buck for every time I said to myself, "Come hell or high water I am crossing that finish line and it will all be worth it then." Sounded pretty spiritual to me. I am so glad that the Holy Spirit helped me beyond that limited thought pattern. God wants so much more for us than to tough it out now so that we can have Heaven later. His desire for us is to have Heaven now, right here in this messy, messed up world, and then to have even better later. He hasn't called us to a life of suffering. What is it about an "abundant life" that says to us "you must suffer."
We will have trouble, Jesus promised it. Nevertheless, He didn't leave it at that.
John 16:33 (KJB), "These things I have spoken unto you, that in me ye might have peace. In the world ye shall have tribulation: but be of good cheer; I have overcome the world."
We aren't supposed to live in fear and unease, yes, there will be trouble, but He has overcome the world. If that doesn't cheer us, than none of those other things we search for certainly won't! What should we be looking for?
Hosea 10:12 (NIV), "Sow righteousness for yourselves, reap the fruit of unfailing love, and break up your unplowed ground; for it is time to seek the LORD, until he comes and showers his righteousness on you."
Luke 12:31 (NLT), "Seek the Kingdom of God above all else, and he will give you everything you need."
We need to be looking for Him, seeking His Kingdom, planting seeds of righteousness. Hosea talks about breaking up our unplowed ground, this ground is our hearts. Unplowed ground is hard and packed, you can't plant seeds there at all. You have to work up the soil and make is soft and airy so that the seeds can take root and the plant can grow up towards the sun. Our hearts need to be softened. His love does that. We find His love in His word, by hanging out with like believers, (yep, in Church), and by talking to Him and letting Him speak into our hearts. It's time to put away our big plans and ask God for His. You'll find they are so much better, maybe scarier, but still better. When we make an effort to really know Him, then that is the first step on the right path.
How will we know if we are still on the right path? We will have a peace that passes understanding. No matter what happens around us, we will be confident in His care. When we accept His gift of righteousness, then keep pursuing it, the product of that is peace.
James 3:18 (NIV), "Peacemakers who sow in peace reap a harvest of righteousness."
Isaiah 32:17 (Holman Christian Standard Bible), "The result of righteousness will be peace; the effect of righteousness will be quiet confidence forever."
We will know we are walking in the right direction by some other signs as well. We will love Him more, as well as people. Not just the lovable kind, but those who used to irritate the heck out of us. The way we used to think will change, our thoughts will line up with His word and His plan.
Here are a few questions that will help as a litmus test to how we are progressing on our path with Him:
Have we fully embraced who He is and who we are IN HIM? Are we walking with heads high knowing that we are Kings and Priests in this world? Are we confident in our authority as sons of God? Do we forbid the enemy to run rough shod over ourselves and our families? Do we get excited about another Church service? Is serving Him treat?
It's not always easy. I still have to fight my flesh many a day and not opt for that path of least resistance. I frequently have to tell my mind "shut up" and purpose to think on good things. I have to remind myself that God is my Father and His children have power and authority to live according to His will and purpose. One of the hardest things to accept sometimes is that I am already righteous. I am not working toward that, He made me that way. It's a gift. Our Senior Pastor says it this way, "I am not as good as God, but I am as right as He is!" That takes the pressure off a bit. I don't have to work to be good, I just have to accept His finished work and He will begin to change me from the inside out.
I want Him. He is what I am looking for. The good news is that He isn't hard to find!
Have you ever played "Hide and Seek" with a three year old? They can't stand the wait, they want you to find them so bad that as soon as you are done counting they yell, "here I am." God is like that, only He never hides to begin with. You are all His heart desires, why would He make it hard to find Him.
I will give you a few hints. Though He is everywhere, you won't find Him on your cell phone, at the bottom of another stiff drink, at the end of a needle, or in another meaningless relationship. Those things are found by people running from God, not running to Him.
Jeremiah 29:11-14a (ESV), "For I know the plans I have for you, declares the Lord, plans for welfare and not for evil, to give you a future and a hope. Then you will call upon me and come and pray to me, and I will hear you. You will seek me and find me, when you seek me with all your heart. I will be found by you,"