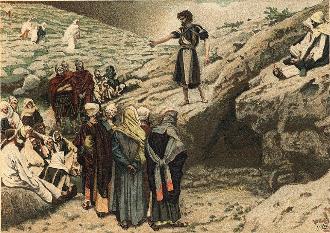 John the Baptist was quite the minister. He was a Wildman with long hair, dressed in goat's hair clothing, living in the desert, eating things most decent people wouldn't, and preaching to a people who hadn't heard the voice of God in over 400 years. John railed at the religious leaders, railed at Herod, and prepared the way for the Messiah. His message was simple "repent, for the Kingdom of Heaven is at hand," (Matthew 3:2). A stiff necked, self-righteous people who thought they were special because God had chosen them, better than anyone else, needed to hear that they were sinners in need of a forgiving Father.
As he was standing at the Jordan one day, ministering according to his calling, the religious leaders show up. Did John puff himself up, feeling self-important due to the recognition of the 'rock stars' of his day? Did he welcome them with open arms? No he yelled for all to hear, "You brood of vipers, who warned you to flee the wrath to come? Bring forth fruit that is consistent with repentance- let your lives prove your change of heart." He threatened them with hell-fire, then preceded with, "Don't just say to each other, 'We're safe, for we are descendants of Abraham.' That means nothing, for I tell you, God can create children of Abraham from these very stones." (Matthew 3:9).
John is a wonderful example of humbleness. He is NOT week or wishy-washy. He does NOT compromise his message or cow-tow to the big-name-leaders of his day. He DOES admit that he is nothing and the one coming after him is everything. He even goes as far as to say that he is "unworthy to untie the shoes" of the one coming after. And as he is standing at the Jordan that day, immediately after he warns the religious leaders, Jesus shows up, asking to be baptized. Once again John proves the condition of his heart by humbly declaring that Jesus was the one who should be baptizing him. Jesus insists, so that "righteousness will be fulfilled." John clearly is not spouting and practicing religion. He is in relationship with God. How do we know that? Because he does as Jesus asks.
God is pleased with it, saying in verse 17, "This is my son, My Beloved in Whom I delight," and is most versions says, "In whom I am well-pleased." Moving on from John to Jesus, we see another example of a relationship. Jesus goes on to minister to the people, teaching, healing, casting out demons and feeding thousands, all proving his relationship with the Father. He only did what His Father told Him to do and only said what He told Him to say. Teaching in the temple they were all amazed at how He taught. He taught with authority, "and not as the scribes." What was the difference in their teaching? The scribes knew the scriptures, memorized them even, but Jesus knew the one who authored them.
The religious leaders claimed a physical relationship with Abraham. They were all about their genealogies. But God always wanted a spiritual relationship son's and daughters who loved Him. They would give a lengthy history of all of their ancestors, stopping at "Joseph, son of Abraham," but never went back far enough to say, "Adam, the son of God." In fact, that was one of the issues they had with Jesus. He claimed to be the Son of God, and they called that blasphemy. How little they understood the love of the Father.
Religion can't save. It can only give a list of 'do's and don'ts' that we can't ever manage to adhere to. Religion kills.
God never wanted the law. He wanted Sons and Daughters, children to love. Relationship with Him brings life and life more abundantly.
What do you want?
Religion or relationship?