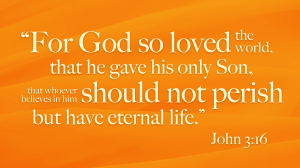 Who doesn't love John 3:16?
"For God so loved the world, that He gave His only begotten Son, that whoever believes in Him shall not perish, but have eternal life." (NASB)
But, what about verse 17?
"For God did not send the Son into the world to judge the world, but that the world might be saved through Him." (NASB)
If Jesus, God in the flesh, didn't come to condemn, to judge, the world, why do we think it is our job? I have been hearing and reading a lot about this lately. Which probably means that God is getting tired of our pharisaical and judgmental behavior. He is bringing some correction to His body. The whole reason that Jesus came was to fulfill the law, it is now done away with. So why do we try to hold people to certain rules and regulations. The Apostle Paul even said that to those who have surrendered to Christ, all things are legal, though not all beneficial. Yet we judge each other and even worse we judge the world. I have said it before and I will say it again, speaking into someone's life that you are in relationship with, pointing out some errors and even giving Godly council, is not judging! The difference between judging (condemnation) and interceding is all in the motivation. We don't accept sinful behavior, we don't say it is "ok," but we do accept people who are bound in sin. We love them!
I thought that I was getting better at the not judging, being more loving. Then God brought some things to my attention, not by pointing out the condition of my heart, but by bringing some things before my eyes. For months, maybe even a year or two, I have been struggling with how to love and accept homosexuals without accepting their lifestyle. Then this whole Bruce Jenner thing had me recoiling in disgust. I won't mention the things I was thinking and some things that were even said in private to my husband, but when I saw similar words written on social media by other Christians, I can't describe what I felt. It was close to sorrow and embarrassment for my thoughts and word, and for the Body of Christ. Where was the love that Jesus talked about so often? Where was the goodness of God turning hearts to repentance?
A young family member, who struggles with the judgment of other Christians, he professes his love for God and his homosexual nature, posted something on his facebook page. It said, "Live your life in such a way that the Westboro Baptist Church will want to picket your funeral." For those of you who may not know, members of this church, who call themselves Christians, go to funerals of homosexual service men and woman and disrupt the funeral by shouting and carrying signs. The words are full of hate, "God hates gays," "Gays go to Hell," and other such un-Christ-like verbiage. They have offended me from day one and I fully applauded those so called hard core bikers who surrounded those funerals and kept the families separated from the ugly behavior as much as they could. So, though I am filled with righteous anger at the actions of this church, I was saddened by the quote this young man shared. I did comment saying that I would prefer to live my life in such a way that my funeral would be a celebration of a daughter going home to daddy. His comment to this was, "The problem is that many Christians do not share the love that Jesus represented. They choose to be one sided. I love God & try to work on myself daily & fail daily. But no one is going to come to Jesus when hate is preached. I love everyone & just wish Christians would share the love that Jesus instructed them to." That got me thinking even more.
We fail as the body of Christ if we can't reach out to hurting, broken people (you know the way we were before) with the love of Christ. Jesus' great commission was not to "point out peoples sin, set yourself above them, call them names and hate and revile them." No, He said to And then he told them, "Go into all the world and preach the Good News to everyone." (NLT) What's the "good news?" That God loves sinners! He doesn't care what you've done, He loves you. He knows what your gonna do and He still loves you. He knows every one of your deep dark secrets and guess what? HE LOVES YOU. How many people have the Westboro Baptist Church led to Christ? I am not talking about their twisted followers who just want to jump on the bandwagon of hate, but true surrendered hearts to the Lordship of Jesus.
Jesus, when all others were condemning a woman caught in adultery said these words, "He that is without sin among you, let him first cast a stone at her. And again he stooped down, and wrote on the ground. And they which heard it, being convicted by their own conscience, went out one by one, beginning at the eldest, even unto the last: and Jesus was left alone, and the woman standing in the midst. When Jesus had lifted up himself, and saw none but the woman, he said unto her, Woman, where are those thine accusers? hath no man condemned thee? She said, No man, Lord. And Jesus said unto her, Neither do I condemn thee: go, and sin no more." (KJB John 8:7a-11) Basically He told the people that if they were without sin, than to go ahead and condemn her to death, as that was the law. However, they each knew that they had some type of sin in their lives. He seeing they had left assured her that He wouldn't condemn her, but he left her with the words, "Go and sin no more." He didn't tell her that her behavior was acceptable. He loved her, treated her with dignity and respect, and sent her on her way. He didn't have to tell her what she was doing was wrong. She already knew it.
If we look at the whole passage in John 3:16-21 "For God so loved the world, that He gave His only begotten Son, that whoever believes in Him shall not perish, but have eternal life. For God did not send the Son into the world to judge the world, but that the world might be saved through Him. He who believes in Him is not judged; he who does not believe has been judged already, because he has not believed in the name of the only begotten Son of God. This is the judgment, that the Light has come into the world, and men loved the darkness rather than the Light, for their deeds were evil. For everyone who does evil hates the Light, and does not come to the Light for fear that his deeds will be exposed. But he who practices the truth comes to the Light, so that his deeds may be manifested as having been wrought in God." It is their lack of belief in Jesus that condemns them. They are already judged, we don't have to do it. Our job is to show them the way out of their sentence, whether we think they deserve the sentence or not. We need to show them their advocate, Jesus.
That young man was right, no one is going to come to God when hate is preaches. They won't if it is practiced either.
So what do we do? Well, to begin with I prayed about it. Then I did something I don't always take the time to do. I listened for God's answer. Can you guess what He said? Yep, He told me to love them and He promised to give me His love to do it with. Pretty simple huh?
Next time you want to point out someone's sin and you aren't their mother or father, mentor, or close friend, don't do it. Instead talk about how much you love them, or how much God loves them. It's a better way. It's what Jesus did. In fact He is still doing it.