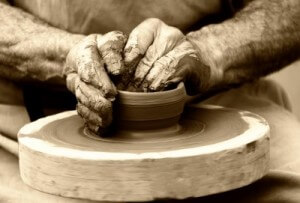 Romans 9:21 (KJV), "Hath not the potter power over the clay, of the same lump to make one vessel unto honour, and another unto dishonour?"
Romans 9:21 (NIV), "Does not the potter have the right to make out of the same lump of clay some pottery for special purposes and some for common use?"
Do you want to be used for special purposes, or just for common use? God is the Master Potter and we are the work of His hands. His intention for each one of us is to be used for special purposes, to be vessels of honor. He has gifted us and given us talents with this in mind. Not one of us is meant to be the "chamber pot"! Instead we are to be the beautiful vase, or the chalice of a king. Unfortunately we don't listen, or we listen and don't obey, or we think we can't hold water, or are too dirty to hold the kings wine. Sometimes we don't like the process that it takes to become that vessel of honor. Clay has to go through quite the process to become anything. It is dug out of the ground, uprooted from its comfort zone. Then it is kneaded to get all the air bubble out. Next, it is thrown on the wheel, not carefully placed, thrown. The potter uses his hands and different sharp implements to shape and cut the blob of clay into the shape he wants. Most of the work is done on the inside, invasive, in the beginning and the outer work is finished up last. After all of that work, the final stage is the fire. Only through trials and through trouble can we become solid and usable.
Jeremiah 18:1-4 (Holman Christian Standard Bible), "This is the word that came to Jeremiah from the LORD: "Go down at once to the potter's house;?and there I will reveal My words to you." So I went down to the potter's house, and there he was, working away at the wheel.? But the jar that he was making from the clay became flawed in the potter's hand, so he made it into another jar, as it seemed right for him to do."
So maybe we got off track and we became flawed. Don't fret; we are still in the Potter's hands. This is the safest place to be! Allow Him to remake us. It isn't always easy. In pottery class I learned a lot. Any piece can be broken down and crushed into dust. Then it is soaked in water until it is soft and pliable, only then can it be remade. If you have allowed your heart to be hardened, it will take longer and may be more painful. But always, God can start new with us.
II Timothy2:19-26 (NIV), "Nevertheless, the firm foundation of God stands, having this seal, "The Lord knows those who are His," and, "Everyone who names the name of the Lord is to abstain from wickedness." Now in a large house there are not only gold and silver vessels, but also vessels of wood and of earthenware, and some to honor and some to dishonor. Therefore, if anyone cleanses himself from these things, he will be a vessel for honor, sanctified, useful to the Master, prepared for every good work. Now flee from youthful lusts and pursue righteousness, faith, love and peace, with those who call on the Lord from a pure heart. But refuse foolish and ignorant speculations, knowing that they produce quarrels. The Lord's bond-servant must not be quarrelsome, but be kind to all, able to teach, patient when wronged, with gentleness correcting those who are in opposition, if perhaps God may grant them repentance leading to the knowledge of the truth, and they may come to their senses and escape from the snare of the devil, having been held captive by him to do his will."
Looking at those verses in II Timothy we can see how vessels of honor behave:
1.They name the name of Jesus.
2.They abstain from wickedness.
3.They are prepared for every good work.
4.They flee youthful lusts.
5.They pursue righteousness, faith, peace, and love.
6.They ignore foolish speculations (gossip, assumptions.)
7.They are not quarrelsome.
8.They are kind to all.
9.They are able to teach.
10.They are patient when wronged, gently correcting those in opposition, with the intent of helping them come to their senses and escape the snare of the devil.
So what will it be? Will you surrender your heart to God, The Master Potter, and allow Him to make you into something beautiful?