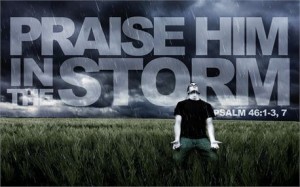 I Chronicles 29:10-12 (KJV), "Wherefore David blessed the LORD before all the congregation: and David said, Blessed be thou, LORD God of Israel our father, for ever and ever. Thine, O LORD, is the greatness, and the power, and the glory, and the victory, and the majesty: for all that is in the heaven and in the earth is thine; thine is the kingdom, O LORD, and thou art exalted as head above all. Both riches and honour come of thee, and thou reignest over all; and in thine hand is power and might; and in thine hand it is to make great, and to give strength unto all. Now therefore, our God, we thank thee, and praise thy glorious name."
Sometimes life throws us a curve ball or Satan gives us a sucker punch. There are even times that we have gotten ourselves in a fine mess and things aren't looking so good. It's easy to start the pity party, to seclude ourselves from others, or worse find everyone we know and whine and complain about how rotten our lives are. I've done it. It's our "hour of flesh" that sometimes lasts days. What a way to glorify God, Huh? Who wants to be part of a kingdom whose subjects are not happy campers. By our self indulged pity parties we are showing our lack of faith in He Who IS Faithful…
So what is a brother or sister to do in these times? Well, first if you have already started the party I just mentioned, repent! Then, if you don't have anything nice to say, shut up! Take command over your mouth and don't let it say another thing that may tarnish God's reputation. Finally, think on His goodness. The Bible is full of scriptures that rehearse and meditate, sing about and praise Him. Find then and get them past your head into your heart.
Psalms 103:2-4 (ESV), "Bless the Lord, O my soul, and all that is within me, bless his holy name! Bless the Lord, O my soul, and forget not all his benefits, who forgives all your iniquity, ho heals all your diseases, who redeems your life from the pit, who crowns you with steadfast love and mercy, who satisfies you with good so that your youth is renewed like the eagle's."
Remind yourself that you can bring your problems to God, yes, even that mess we made ourselves. He will help. He promised He would and He always keeps His promise. It may not be when we want or even how we want, but He always comes through. He's our Father, through the shed blood of Christ we have been given the privilege to come boldly into His throne room just as our children never have to fear coming to us for help.
Psalms 46:1 (Aramaic Bible In Plain English), "Our God is our strong house of refuge, and he is found to us our helper always in times of trouble."
Hebrews 4:16 (NIV), "Let us then approach God's throne of grace with confidence, so that we may receive mercy and find grace to help us in our time of need."
One of the most important things we can do when things don't look good, is change what we are looking at. Look to Him, look at Him, look at His creation, and then praise Him for who He is, what He has done, and what He is doing in your situation right now.
Psalm 113 (NLV), "Praise the Lord! Yes, give praise, O servants of the Lord. Praise the name of the Lord!
Blessed be the name of the Lord now and forever. Everywhere—from east to west—praise the name of the Lord. For the Lord is high above the nations; his glory is higher than the heavens. Who can be compared with the Lord our God, who is enthroned on high? He stoops to look down on heaven and on earth. He lifts the poor from the dust and the needy from the garbage dump. He sets them among princes, even the princes of his own people! He gives the childless woman a family, making her a happy mother. Praise the Lord!"