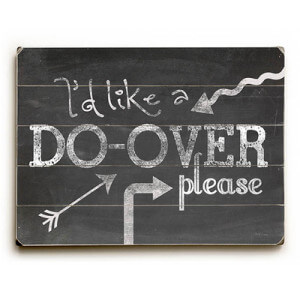 Lamentations 3:21-26 (NASB), "This I recall to my mind, therefore I have hope. The LORD'S lovingkindnesses indeed never cease, for His compassions never fail. They are new every morning; Great is Your faithfulness. "The LORD is my portion," says my soul, "Therefore I have hope in Him." The LORD is good to those who wait for Him, to the person who seeks Him. It is good that he waits silently for the salvation of the LORD."
Remember the school playground? When we were kids whether we were playing foursquare, hopscotch, or kickball, at some point you would hear the words shouted, "Do over." Usually it was by the kid who threw the rock across the blacktop instead of in the hopscotch boxes, or tripped instead of kicking that ball. I loved that phrase. It allowed us to pretend we hadn't messed up. Our mistake didn't count against us. We could totally miss the ball and then in a "Do over" hit it out of the park.
Have you ever, as an adult, wanted to shout "Do over!"? Or maybe you weren't that kid, so that phrase isn't one you are comfortable with. Instead you would say to yourself, "why did I do that?" or, "I wish I could start over," this one is popular, "If I had it to do over again…" When we say or think these things it is always with regret. In our thinking it's a done deal. There is no "do over's" in real life. Right?
Psalm 103:8-18 (God's Word Translation), "The LORD is compassionate, merciful, patient, and always ready to forgive. He will not always accuse us of wrong or be angry [with us] forever. He has not treated us as we deserve for our sins or paid us back for our wrongs. As high as the heavens are above the earth- that is how vast his mercy is toward those who fear him. As far as the east is from the west- that is how far he has removed our rebellious acts from himself. As a father has compassion for his children, so the LORD has compassion for those who fear him. He certainly knows what we are made of. He bears in mind that we are dust. Human life is as short-lived as grass. It blossoms like a flower in the field. When the wind blows over the flower, it disappears, and there is no longer any sign of it. But from everlasting to everlasting, the LORD's mercy is on those who fear him. His righteousness belongs to their children and grandchildren, to those who are faithful to his promise, to those who remember to follow his guiding principles."
David wrote this, before Jesus paid for our sins. Under law, he knew of the compassion and mercy of God. Our opening scripture in Lamentations, still under law, written before salvation had come to mankind. If Jeremiah and David knew that "His mercies are new every morning" and that "As far as the east is from the west" He has removed our sins from us. How much more, now that Jesus has died for our sins, should we know of His everlasting mercy and grace?
So are there still "Do over's"? You bet there is! It's the biggest "Do over" of all, and it won't cost you a thing.
You just have to be like that little child again and admit you messed up. Go ahead, dare to think it, yell it, or even scream it… "DO OVER", now accept the work He did for you and let's move on to a better life, shall we.
Father God, Thank You for Your patience. Only You could continue to love me, care for me, and extend Your hand of mercy again and again. Your love knows no bound, Your forgiveness is complete, and your patience is monumental.