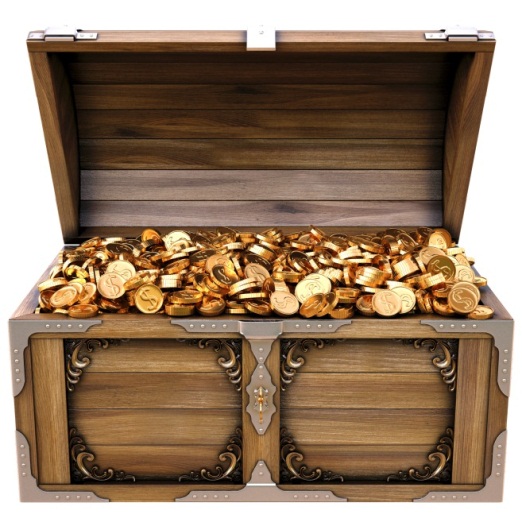 "And which of you by being anxious can add a single hour to his span of life? If then you are not able to do as small a thing as that, why are you anxious about the rest? Consider the lilies, how they grow: they neither toil nor spin, yet I tell you, even Solomon in all his glory was not arrayed like one of these. But if God so clothes the grass, which is alive in the field today, and tomorrow is thrown into the oven, how much more will he clothe you, O you of little faith! And do not seek what you are to eat and what you are to drink, nor be worried. For all the nations of the world seek after these things, and your Father knows that you need them. Instead, seek his kingdom, and these things will be added to you. "Fear not, little flock, for it is your Father's good pleasure to give you the kingdom. Sell your possessions, and give to the needy. Provide yourselves with moneybags that do not grow old, with a treasure in the heavens that does not fail, where no thief approaches and no moth destroys. For where your treasure is, there will your heart be also." Luke 12:25-34
We are God's treasure. He sold everything (laid down His life) to purchase the Pearl of Great Price (you and me.) He is the Good Shepherd who leaves the flock safe in the mountains, to go and search for the one lost little sheep. The very one who wondered off looking for something different, that greener pasture.
Where is your treasure? What is your treasure? Is it your fine education, your forty foot yacht, your modern day castle, or the latest technological toy? Or maybe it is the recognition you get on your job, or for doing your "good works?" Is your treasure something shameful that you don't want anyone to know about? Is it simply money and possessions? What will you give for your treasure? What sacrifice are you willing to make? Your marriage, your kids, or your relationship with God?
When Jesus created everything-He created an order and a balance. God loves us and wants to give us good things. But our lives must have balance and order. First our desire should be for Him. Everything else comes after. Our greatest treasure should be Him. A passionate relationship with Him is the greatest thing we could ever hope to attain. When we do that, He adds all the other stuff to us-giving it freely.
When we hold back from Him or give our hearts over to other people and things, before Him, we lose. The sacrifices we make to keep those tarnished so-called-treasures, ends up being too much. We end up selling our soul and hurting so many others in the process. "For what shall it profit a man, if he shall gain the whole world, and lose his own soul?" (Mark 8:36).
Let's get practical. The holiday season is fast approaching us. Thanksgiving-a time to thank God for all he had provided for us, a day spent with family sharing how thankful we are for each other. And quickly following that day comes Christmas. Christmas is a day set aside to remember a loving God who humbled Himself and came to us in the form of a mortal man. A Father who sent us gifts to make our lives better, the gift of life to a dying world. So we in turn give gifts to others in remembrance.
Sounds lovely doesn't it? But for most people those days are not all "thankfulness" and "peace on earth." They are stress and overspending, loneliness and depression. Some feel they have little to be thankful for, and some have little to eat while we all feast away. Many look at the expensive unnecessary toy, gadgets, clothes and merchandise (junk), displayed as the next-best-greatest-thing that will bring happiness, love, satisfaction, ease and envy. But it is all only stuff!
We are so shallow…and dare I say it? Foolish. Things may make us happy for a season, but most of the time they disappoint-or something newer and better comes along and we look at what we have with disdain. Who cares if the shoes I am wearing are five years old and not "in style?" Or if the phone I just paid extra for last spring, because the free one was too plain, is now obsolete? How many apps can one person use? We are calling wood, hay and stubble treasure! How disappointing that must be to the Father. We step over the homeless man who smell makes our eyes water, to hurry into the mall to purchase that sale item that is supposed to represent God's gift to mankind. Seriously?
Ask Him what we can do to celebrate these special days. He'll give you something wonderful (hard) to do. Like put away the charge card and only buy what you can pay for. Maybe invite someone to share your family only meal with. Maybe it will just be bringing some food, not your leftover things sitting in the back of your cupboard, to the local food pantry. This one is a favorite of mine; make some shoeboxes for "Operation Christmas Child." All of these things build treasure in heaven, if our motivation is to please God and help others. Attend a Christmas Eve service. Not to show off your new clothes and jewelry, but to praise Him for who He is, to sit in His presence with a thankful heart.
We have Him! Is there anything that can compare to that? He is our treasure. Don't you want to give Him to others? He's the only treasure worth seeking. But He's a treasure not to hide, or horde. He is to be shared. "Freely we have received, freely we give."