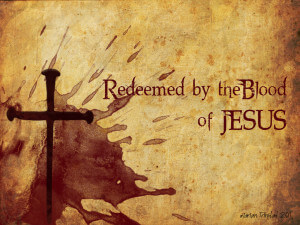 I Corinthians 11:23-30 (NIV), "For I received from the Lord what I also passed on to you: The Lord Jesus, on the night he was betrayed, took bread, and when he had given thanks, he broke it and said, "This is my body, which is for you; do this in remembrance of me." In the same way, after supper he took the cup, saying, "This cup is the new covenant in my blood; do this, whenever you drink it, in remembrance of me." For whenever you eat this bread and drink this cup, you proclaim the Lord's death until he comes. So then, whoever eats the bread or drinks the cup of the Lord in an unworthy manner will be guilty of sinning against the body and blood of the Lord. Everyone ought to examine themselves before they eat of the bread and drink from the cup. For those who eat and drink without discerning the body of Christ eat and drink judgment on themselves."
Paul is teaching the Church at Corinth about the Communion. He points out that they needed to "discern" the body of Christ. When we fail to do that we eat and drink judgment on ourselves. What does that mean?
Jesus called it eating His body and drinking His blood. So many people found that offensive that they left and didn't continue on with Jesus. Once again they didn't understand. He wasn't asking them to become cannibals. Peter may not have understood, but he knew Jesus, so he answered, "Then Simon Peter answered him, Lord, to whom shall we go? Thou hast the words of eternal life." (John 6:68, KJB).
Over my years of walking with the Lord, and it has been about 44 years now (several of those in a backslidden state, and several as a "carnal Christian.") I have heard this preached in several different ways. None of them bad and all had good points, but recently the senior Pastor at our Church explained it in a way that finally clicked in. When we think of Salvation, we know that Jesus purchased us with His blood. We who were slaves to sin were totally set free by the sacrificial blood of the only One who could legally do it. All we have to do is confess that sin, and turn our hearts and lives over to Him. When we do that we are His. We know that when we die we will go to Heaven to be with Him and that He isn't holding our sins against us. We are welcomed in the family of God.
What most of us have trouble with is all the other stuff that comes with Salvation. Salvation means much more than going to Heaven one day. It means accepting all the good things God has in store for us here. It includes healing and deliverance. It gives us the authority over everything. We have the same authority Jesus did, the same power available to us, (the Holy Spirit), and we are made just as righteous as God. Now, that is a little harder to wrap our minds around. I finally had to bypass the head and just get it into my heart. That's the best way to think and meditate on spiritual things anyway. Still having some trouble with that? Let's take a look at just a few scriptures.
Hebrews10:19-24 (NIV), "Therefore, brethren, since we have confidence to enter the holy place by the blood of Jesus, by a new and living way which He inaugurated for us through the veil, that is, His flesh, and since we have a great priest over the house of God, let us draw near with a sincere heart in full assurance of faith, having our hearts sprinkled clean from an evil conscience and our bodies washed with pure water. Let us hold fast the confession of our hope without wavering, for He who promised is faithful; and let us consider how to stimulate one another to love and good deeds, not forsaking our own assembling together, as is the habit of some, but encouraging one another; and all the more as you see the day drawing near."
Ephesians 1:7 (KJB), "In whom we have redemption through his blood, the forgiveness of sins, according to the riches of his grace; Wherein he hath abounded toward us in all wisdom and prudence; Having made known unto us the mystery of his will, according to his good pleasure which he hath purposed in himself:"
Romans 3:25-26 (NIV), "God presented Christ as a sacrifice of atonement, through the shedding of his blood–to be received by faith. He did this to demonstrate his righteousness, because in his forbearance he had left the sins committed beforehand unpunished–he did it to demonstrate his righteousness at the present time, so as to be just and the one who justifies those who have faith in Jesus."
Mark 14:24 (Weymouth New Testament), "This is my blood," He said, "which is to be poured out on behalf of many–the blood which makes the Covenant sure."
1 John 1:7 (NIV), "But if we walk in the light, as he is in the light, we have fellowship with one another, and the blood of Jesus Christ, his Son, cleanses us from all sin."
So what did Paul mean when he said that we need to discern His body and His blood?
As Dr. Hohman taught us, it means that we need to understand and apply what His shed blood accomplished for us! If we don't understand that we are right with God, that we are accepted in the Beloved, we won't even try to enter the throne room let alone do it boldly. If we don't use our authority, the enemy and our own flesh, ride rough shod over our lives. A covenant, which is so much stronger than a promise, had to include the shedding of blood. Jesus shed His so that we no longer have to live under the law, but we now live under grace, the Law of Love. His plan for us isn't just to get by, or to tread water. We are supposed to take ground! We aren't waiting to one day get to Heaven, we are His ambassadors and we are bringing Heaven to earth!
It is so important that we understand who He is, who we are, and what His shed blood has purchased for us, when we don't we still live in bondage. The prison doors are opened but we sit shivering in the corner and refuse to leave.
Do a word search in your bible concordance and if you have access to the internet, use it for good and do a scripture search on the blood of Christ. There are some good blogs and commentaries out there (like mine), but first and foremost, see what God has to say about it. All of our other writings should line up with and encourage understanding with what is written in His word. We can never substitute good writing, good teaching, and good preaching with God's word. The work of men can never do the job that His word can, after all His word is alive, and sharper than any double edged sword. Mine are not.
When we try and do it without remembering and discerning His blood, we make a mess of our lives. I did. However, when we do it His way, it is so much better. Notice I didn't say easier, just better. He himself told us we would have trouble, but not to worry because He had already overcome.
Live for Him! He already did all the hard stuff. We just need to stand on His word, keep our part of the covenant, and walk in our authority.
Jesus, thank You for Your shed blood. Holy Spirit help me to understand with my spirit and to apply the blood rightly to my life. I choose to accept all that it purchased for me. I will not allow Your sacrifice to be in vain in my life.