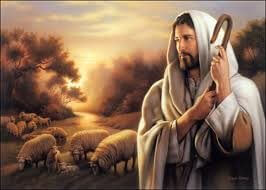 Psalm 23:1-6 (AMP)
Verse 1- "The Lord is my shepherd [to feed, guide and shield me,] I shall not lack."
What do you lack? Nothing!
Thank you, Lord, that I lack no good thing. You feed me and you show me where to go.
Verse 2- "He makes me lie down in (fresh, tender) green pastures; He leads me beside still and restful waters."
Sheep won't drink out of troubled, moving, water. God knows this. He leads His sheep to waters that are calm. Only goats eat tough, dry grass, so God provides pasture that is lush and green for us.
Thank you, Lord that you are the only one who really knows what I need and you provide it for me.
Verse 3- "He refreshes and restores my life – myself; He leads me in the path of righteousness [uprightness and right standing with Him – not for my earning it, but] for His name's sake."
God knows this world can be distressing, taxing, and tiring. So, He refreshes us, shows us how to stay right with God. He leads us on the path we need to be on to have a transformed life.
Thank you, Lord, for time of refreshing.

Verse 4- "Yes, though I walk through the [deep, sunless,] valley of the shadow of death, I will fear or dread no evil; for you are with me Your rod [to protect] and Your staff [to guide] they comfort me."
We don't ever have to taste death! Only walk under its shadow. Even then we don't walk along. We go through and He is there to protect, guide and comfort us along the way.
Thank you, Lord, that you always bring us through.
Verse 5- "You prepare a table before me in the presence of my enemies, You anoint my head with oil; my [brimming] cup runs over."
God is preparing a wonderful feast. We will sit and eat right in front of Satan and his minions. Every demon that has ever plagued us will witness our victory celebration.
Thank you, Lord, for not just anointing me, but giving me more than enough so that I can do what you've asked me to do.

Verse 6- "Surely or only goodness, mercy and unfailing love shall follow me all the days of my life; and through the length of days the house of the Lord [and His presence] shall be my dwelling place."
A boat leaves a 'wake' behind it. A jet leaves a stream in the sky. We leave goodness and mercy, only, in a wake behind us! If we are moving forward.
Thank you, Lord, that I dwell with you in Heavenly places, forever!