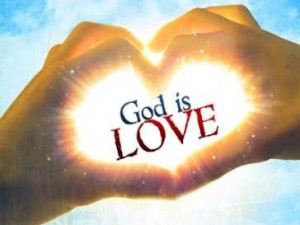 I John 3:16 (NIV), "This is how we know what love is: Jesus Christ laid down His life for us. And we ought to lay down our lives for our brothers."
Jesus showed us what love is.
So why do we try to settle for less? Why do we offer shallow, self-centered love to others? The love of God comes with no strings attached. Our love seems to have gargantuan ropes attached. We have a hard enough time sacrificing for our own flesh and blood families, what about those that are our brothers and sisters in Christ?
I John 4:10 (NAS), "Beloved if God so loved us, we ought to love one another. No one has beheld God at any time, if we love one another God abides in us, and His love is perfected in us."
How do we know God dwells, abides, in us? By our love for one another. It's His love that is perfected in us. Not that shallow, self-centered, perverted love I spoke of before. His perfect, unrestrained, passionate love.
I John 4:16-17 (NAS), "And we have come to know and have believed the love which God has for us, God is love, and the one who abides in love abides in God, and God abides in Him. By this, love is perfected with us, that we may have confidence in the day of judgment, because as He is so are we in this world."
It can't get better than perfect. Perfect is complete, fully functional, lacking nothing.
If you think it is hard to love, then ponder on this for a while…
"We love because He first loved us." John 4:19 (NIV)