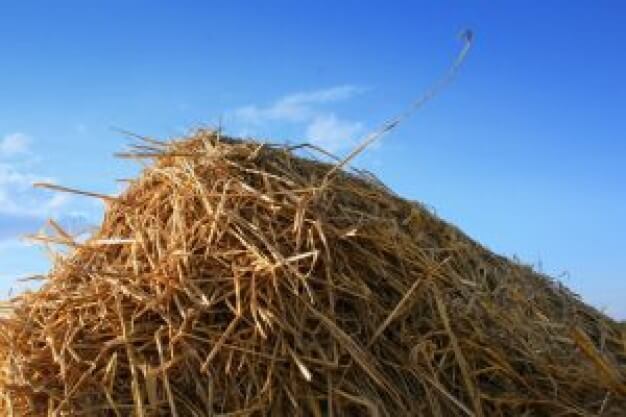 I Corinthians 3:10-13 (KJV) "According to the grace of God which is given unto me, as a wise master builder, I have laid the foundation, and another buildeth thereon. But let every man take heed how he buildeth hereupon. For other foundation can no man lay than that is laid, which is Jesus Christ. Now if any man build upon this foundation gold, silver, precious stones, wood, hay, stubble; Every man's work shall be made manifest: for the day shall declare it, because it shall be revealed by fire; and the fire shall try every man's work of what sort it is. If any man's work abide which he hath built thereupon, he shall receive a reward. If any man's work shall be burned, he shall suffer loss: but he himself shall be saved; yet so as by fire."
What would you prefer to have your building made out of? The choices are gold, silver and precious stones or wood, hay and stubble. The rich building materials represent things that aren't easily found, they are rare, they last, and they have value. They can be tried by fire and retain their beauty and form. The others are easily found building materials, quite common actually. During those fiery trials…they burn up. In a stiff wind or a storm, they blow away. The wood here isn't big oak logs, but more like the twigs of the "Three Little Pigs" story. These building materials are easily corruptible. They rot, they mold, and they lose their strength over time.
The bible uses the word "stubble" quite often. Some versions replace it with the word "chaff."
In Isaiah 5, Isaiah talks about the wicked. Verse 24 (NASB) says, "Therefore, as a tongue of fire consumes stubble and dry grass collapses into the flame, so their root will become like rot and their blossom blow away as dust; for they have rejected the law of the LORD of hosts and despised the word of the Holy One of Israel."
Isaiah 40:23-24 (NLT) "He judges the great people of the world and brings them all to nothing. They hardly get started, barely taking root, when he blows on them and they wither. The wind carries them off like chaff."
Isaiah talks about sorcerers, astrologers, soothsayers and the like in Isaiah 47:14 (NIV). "Surely they are like stubble; the fire will burn them up. They cannot even save themselves from the power of the flame. These are not coals for warmth; this is not a fire to sit by."
That is our poor building material; let's take a look at the better stuff. Proverbs 3:13-15 (NIV) talks about wisdom. "Blessed are those who find wisdom, those who gain understanding, for she is more profitable than silver and yields better returns than gold. She is more precious than rubies; nothing you desire can compare with her."
The temple was full of these precious building materials. All of the wood, which was the best of the best, was still covered in gold, silver and bronze. All of the articles were made of the same metals. The ephod had twelve precious stones. (Exodus 24, I Kings). Heaven is a wonderful place. The Bible tells us that the streets of the city are gold, the walls are made of twelve precious stones and the gates are giant pearls.
Now, we who are now in the family of God, who have made Jesus our Lord, are building. Jesus and his plan of salvation is the foundation. What building material are we adding to this foundation? Are we building what will remain? What has eternal value? Or will it be burnt up in the flames? It all depends on our motives and whether or not we are hearing from God, or just doing what seems right to us. All good ideas aren't God ideas.
Getting rich so that we can buy more toys: Stubble.
Allowing God to prosper us so that we can use it for the Kingdom: Gold.
Singing on the praise and worship team so that others can see us: Twigs.
Singing on the praise and worship team so that we can lift up Jesus and give glory to God: Rubies.
Are you getting the picture?