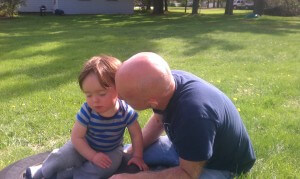 Gabriel and Papa
My youngest grandchild, Gabe the Babe, has been at our house since Friday. His parents are in Hawaii. My daughter is having a hard time being away from her little 13 month old, but we are having a great time. Sure getting up at night to pat his back until he goes back to sleep and the winey, crabby boy who is getting some new teeth can try our patience, after all we aren't young anymore. However, the rewards are great. I keep him weekday while mommy and daddy work, but this is different. I rock him to sleep, give him bath time, and watch my hubby interact with him, just like he did with our children when they were young. We never thought we could love anyone the way we love our children. We know better now.
Proverbs 17:6 (NLT), "Grandchildren are the crowning glory of the aged; parents are the pride of their children."
So, maybe I haven't wrote a thing, other than this post, and the house is a little messy. I do still have a few flowers that need to go into the ground and we took a walk when the sun came out instead of planting (it has rained for days). I'll be glad to give him back to his mommy, but I will be sad too. This ten days is a reminder that life is short, family is so important, and we all need to slow down.