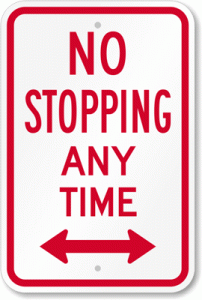 MyParkingSign.com

Psalm 33:11 (NIV), "But the plans of the LORD stand firm forever, the purposes of his heart through all generations."
Isaiah 14:24, 27 (ERV), "The LORD of hosts hath sworn, saying, Surely as I have thought, so shall it come to pass; and as I have purposed, so shall it stand…For the LORD of hosts hath purposed, and who shall disannul it? And his hand is stretched out, and who shall turn it back?"
Do you ever feel like you just can't get with the program? You make plans, set goal, only to have them thwarted again and again. You end up feeling like a failure with a big "L" stamped on your forehead (for loser). Well, you're not alone! And there is probably a good reason why.
You see our plans are not the same as God's plans. His are better. Way better. If we could just get a glimpse of a portion of them, they are as many as the sand on the earth, we would be blown away. So He reveals bits and pieces to us and then expects us to obey and walk in faith. Our plans may seem good, but if it doesn't line up with God's plans, it leads to death (Proverbs 14:12). Have you ever heard the saying, "the road to hell is paved with good intentions?" Or what about this saying originally from Scotland, made famous by the poet Robert Burns, "and the best laid plans of mice and man often go awry." Both of these sayings are very biblical.
Proverbs 19:21 (Holman Christian Standard Bible), "Many plans are in a man's heart, but the LORD's decree will prevail."
It's pretty simple really. God gets to do whatever He wants. I for one am glad. I would mess it up, and so would you. We don't see the end from the beginning. God sees the whole timeline. He dwells outside of time. He sees everything, the whole of existence at once. So, I think we can agree, He probably knows what's best for us. In my opinion, if we could see our lives as a movie, after we pass away, it would be filled with missed opportunities, missed blessings, wrong roads, and wrong choices. (Hopefully, we won't have to watch that, after all He promises no more sadness and no more tears).

Isaiah 46:8-10 (NIV), "Remember this, keep it in mind, take it to heart, you rebels. Remember the former things, those of long ago; I am God, and there is no other; I am God, and there is none like me. I make known the end from the beginning, from ancient times, what is still to come. I say, 'My purpose will stand, and I will do all that I please."
How do we know if a man's plans line up with God's? If I can quote another old saying, "the proof is in the pudding." Puddings were baked, and full of eggs, if the oven was jiggled, or the pan not handled carefully, the pudding would collapse into a pile of mush. The Apostle Paul says it this way, when faced with some complaints about the actions of some people who's motives were in question, "Therefore, in the present case I advise you: Leave these men alone! Let them go! For if their purpose or activity is of human origin, it will fail. But if it is from God, you will not be able to stop these men; you will only find yourselves fighting against God." Acts 5:38-39 (NIV).
We should take confidence in the fact that God's plans are unstoppable. Sure, we can choose not to go His way. But, His ultimate plan for His creations will come to pass. His plan for salvation and redemption will take place. His timeline will come to His expected end. Hebrews calls this confidence our "anchor."
Hebrews 6:17-20 (God's Word Translation), "God wouldn't change his plan. He wanted to make this perfectly clear to those who would receive his promise, so he took an oath. God did this so that we would be encouraged. God cannot lie when he takes an oath or makes a promise. These two things can never be changed. Those of us who have taken refuge in him hold on to the confidence we have been given. We have this confidence as a sure and strong anchor for our lives. This confidence goes into the [holy] place behind the curtain where Jesus went before us on our behalf. He has become the chief priest forever in the way Melchizedek was a priest."
The beginning of verse 19 in the Amplified Bible says it this way, "[Now] we have this [hope] as a sure and steadfast anchor of the soul [it cannot slip and it cannot break down under whoever steps out upon it—a hope]"
That, my friends, should be reassuring. It should also prompt and motivate you to know His plans for you. The Bible and sound teaching will tell us God's general will for our lives. The Holy Spirit will give us specific instruction. Make sure you make sure that it is the Holy Spirit. God tells us to try the spirits. If what you are hearing doesn't line up with God's word it isn't His Spirit. For example: if you think you hear the Spirit of God telling you not to give to your local church, we know that isn't God's plan, for He tells us in several places to bring in our tithes and offerings. It is a command of God. If you aren't sure, seek godly counsel. Not someone younger, or more immature in the things of the Lord, seek counsel from those who live a committed life, who are in relationship with the Father. With two or three witnesses things are established. The Holy Spirit is one.
So, what will it be?
Your stoppable, changeable, messed up, misinformed plans?
Or His?