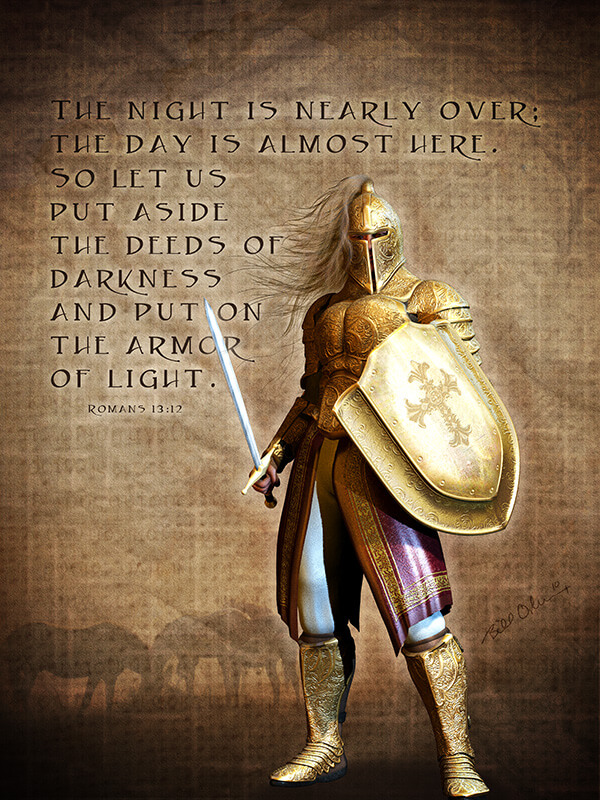 "For we do not wrestle against flesh and blood, but against principalities, against powers, against the rulers of the darkness of this age, against spiritual hosts of wickedness in the heavenly places." Ephesians 6:12
Our enemies are not made of flesh and blood. We all know that right? We've heard it preached, taught and we've read it ourselves in God's word. People are not our enemies. But, honestly, that is hard to remember at times. We can be so easily irritated by that one person (or sometimes several different people). I have found myself, more times than I am comfortable admitting to, wanting to "lay hands on" someone because of their words or actions and it had nothing to do with prayer or imparting gifts! Or as my grandson likes to say "give them a five knuckle sandwich." It's easier to see the carrier, the messenger, than the real enemy. Our enemy is Satan. He comes to only kill, steal and destroy. He and his minions are spirit and can only operate through people. My pastor uses the term, "principalities that use personalities." That person that antagonizes, manipulates, irritates, brings division and harm, is operating under the influence, and sometimes control, of an evil spirit and most of the time they aren't even aware of that fact. There are those occasions that the only enemy is our own human nature, our own flesh, but we will leave that for another day.
There have been times that we have been hurt, or worse, had to watch a loved one be crushed under abusive behavior. We have all been affected by or witness to bullying, unfair treatment, discrimination and all of those other ugly behaviors, all products of the fallen world we live in. They stem from anger, bitterness, pride, selfishness and straight from the pit of hell. So how do we keep things in perspective? How do we not lash out in anger and revenge at those who have hurt, or continue to hurt us? How do we look past the flesh and blood person and see the evil lurking behind? First, we have to accept God's love in our lives, His love for us and His love for others, including that person who has you wanting to behave in an ungodly way. We need to renew our minds, wash it out, with God's word (Romans 12:2). When we love God's law we aren't easily offended (Psalm 119:165). When we stand on God's word, write it on the tablets of our hearts and we allow God to fill us with His love we are slow to judge and quick to forgive. Love covers a multitude of sins, so it allows us to overlook some of the behavior (Proverbs 6:12). Another way that we can overlook the flesh is to remember at one time we were just like they were. There is a reason they are called "the lost". We were unloving, backbiting, selfish children of our father, the devil.
Quite often the ones that hurt us the most are our own loved ones, family members, spouses, our Church family. Some are even professing Christians (I would say they may still have a lot of their carnal nature there, living by their senses). How do we handle that? First off remember that they are not the enemy! If someone has offended you, we are supposed to go to them. That can be harder than asking someone to forgive you, I know. Occasionally, you will find that they never intended to hurt and didn't realize they even did. Sometimes they know they did, but refuse to admit fault or ask for forgiveness. If it's a big deal, ask for leaders to help with the situation, if it is not a major thing, just shake the dust off of your feet and move on. Forgiveness isn't an emotion, it's a choice. You choose to forgive, whether they ever admit fault or not, and let your emotions catch up. When the behavior is continued, and the relationship is toxic, forgive, but don't stay in relationship with that person. God never intended for abusive behavior to be part of a family. Sometimes we have to distance ourselves from people and their sin. Don't be a part of sinful behavior. Forgiving isn't saying what they did was acceptable or that you will allow the behavior to continue in your life. You are just letting the junk go out of your own heart and refusing to hold it against them. Forgive, but move on! Let go of the anger, hurt and pain and allow God to heal. Satan hates that. He loses the battle when you forgive.
I am not saying this is all easy! From time to time, we will all face the enemy with the face of a friend, or at least a human face. But look past that face of flesh and see the evil lurking behind. Rebuke the devil; arrest his plans in your life and the life of the person he is using. Our enemy is not a person with a different opinion, skin color, doctrine, faith or beliefs. Our enemy isn't the rapist, murderer, adulterer or even that grouchy neighbor next door. Pray for those who seem to be your enemy, the person who is being used by Satan. Pray for those who despitefully use you. Be kind to those who have the enemy working in them. This heaps coals on the head of our true enemy. Love the un-loveable. Forgive those who have hurt you. Our enemy is spirit and must be fought with spiritual weapons. We use God's word. How does he feel about that person, the situation, your reaction? Use the blood of Jesus. Plead the blood over your life and the life of that person who has hurt you. Testify of God's goodness. What He is doing, has done, how He feels about you, and how much He loves you. Praise God, it stills the enemy and the avenger (makes him shut up and stop his attack.) Be slow to judge and quick to forgive. Satan hates that as well.
You'll see it all gets easier. You'll find yourself hurt and offended less. Your patience with people will be greater and your love stronger. Relationships will be restored. Families and Churches will have less division. We will be more careful of how we treat others. Life's too short to hold grudges and allow bitterness to take over our lives. When we do that, Satan wins the battle and gains ground. None of us want that. The person you once saw as your worst enemy might just end up being a brother or sister in Christ. God want that. He doesn't like their behavior any more than you do…but He LOVES them. He wants them found and accepted into the beloved.
"Finally, my brethren, be strong in the Lord and in the power of His might. Put on the whole armor of God, that your may be able to stand against the wiles of the devil. For we do not wrestle against flesh and blood, but against principalities, against powers, against the rulers of the darkness of this age, against spiritual hosts of wickedness in the heavenly places. There for take up the whole armor of God that you may be able to withstand in the evil day, and having done all to stand. Stand therefore, having girded your waist with the truth, having put on the breastplate of righteousness. And having shod you feet with the preparation of the gospel of peace; above all, taking the shield of faith with which you will be able to quench all the fiery darts of the wicked one. And take the helmet of salvation and the sword of the Spirit, which is the word of God; praying always with all prayer and supplication in the Spirit, being watchful to this end with all perseverance and supplication for all the saints." Ephesians 6:10-18