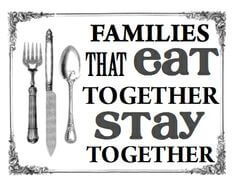 Matthew 26:26-28 (NASB), "While they were eating, Jesus took some bread, and after a blessing, He broke it and gave it to the disciples, and said, "Take, eat; this is My body." And when He had taken a cup and given thanks, He gave it to them, saying, "Drink from it, all of you; for this is My blood of the covenant, which is poured out for many for forgiveness of sins."
Jesus knew He was at the end and that the cross was right around the corner, yet He longed to eat the Passover with His disciples. Breaking bread with friends and family is an intimate time. In Jesus' day they probably ate all three meals together, not like today's busy families. Even in my dysfunctional family, we always had our evening meals together as a family, at least until jobs and extracurricular activities began to interfere. That was the time of the day where we shared how our day went, planned for the weekends, and joked around. My normally quick tempered father calmed down with some of Mom's good cooking in front of him. Jesus understood the importance of all of this.
He could have asked them to remember Him every time they saw a cross, or a hammer and nails; after all he was a carpenter. However, He chose to use a piece of bread and a glass of wine to remind them of all He had showed them, taught them, and how much He loved them. Something that is intimate, something that they would be doing on a daily basis, a family meal together would be the reminder. Every time they broke bread and had a drink with those they cared about. He chose simple daily activity as a reminder of who He is, what He's done, and how important family is to God.
Acts 2:42 (NIV), "They devoted themselves to the apostles' teaching and to fellowship, to the breaking of bread and to prayer." (Emphasis mine)
"Sitting down to a meal together draws a line around us," says Miriam Weinstein, author of The Surprising Power of Family Meals, "It encloses us and strengthens the bonds that connect us with other members of our self-defined clan, shutting out the rest of the world."
So every time you are sitting at the table with loved ones, whether at home or at Church, or even going through drive through on a busy day, remember the shed blood of Jesus and remember His body that was broken for you. It was a pretty big deal! It's worth remembering don't you think?