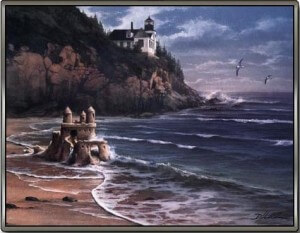 Psalm 125:1 (NAS), "A Song of Ascents. Those who trust in the LORD Are as Mount Zion, which cannot be moved but abides forever."
We all go through stuff, from a "bad day," to acute trauma. Its part of the human experience, part of the earth cursed system. We live in Satan's domain, right in his territory. He doesn't like us born-again-believers. He fights us tooth and nail, (that's a metaphor, because Jesus has pulled his teeth, he can only roar). So, life can be hard. Loved ones pass away, jobs are lost, and sometimes we just make very bad choices with uncomfortable consequences. However, if we belong to God, if we name Jesus as Lord and Savior, we don't have to let all that shaking dislodge us!
Proverbs 10:25 (NASB), "When the whirlwind passes, the wicked is no more, But the righteous has an everlasting foundation."
We all go through it, saved and unsaved. The difference, and it is a huge one, is that we don't get blown away. Our foundation is everlasting. We are like the wise man who builds his house on the rocks.
Matthew 7:24-27 (ESV), "Everyone then who hears these words of mine and does them will be like a wise man who built his house on the rock. And the rain fell, and the floods came, and the winds blew and beat on that house, but it did not fall, because it had been founded on the rock. And everyone who hears these words of mine and does not do them will be like a foolish man who built his house on the sand. And the rain fell, and the floods came, and the winds blew and beat against that house, and it fell, and great was the fall of it."
God doesn't bring the storm. I have to make that clear. Storms aren't a "punishment" from God. He doesn't bring sickness, poverty, troubles, or trials. Jesus said being in this world we would have trouble, but to be of good cheer, He overcame the world. (John 16:33). This world fell, and is falling. If you haven't noticed it gets darker and uglier by the day. People say all the time, "What's this world coming to?" I think the answer is clear, "the end." This time more than ever we need to stand on God's word and His promises. Do what He says to do. I love the way the Amplified Bible says "the uncompromisingly righteous." We can't compromise. We can't try to keep one foot in the world and one in Heaven. There is no dual citizenship for those who are Children of God. We can't serve two masters.
The great news is that if we serve Him, without being double minded, those storms pass us by. Sure there may be a few broken branches, maybe a shingle in the yard, but our house will not be moved! We can't be shaken. In these last days God said that He would shake everything.
Haggai 2:6 (NIV), "This is what the LORD Almighty says: 'In a little while I will once more shake the heavens and the earth, the sea and the dry land.
Joel 3:14-16 (NIV), "Multitudes, multitudes in the valley of decision! For the day of the Lord is ear in the valley of decision. The sun and moon will be darkened, and the stars no longer shine. The Lord will roar from Zion and thunder from Jerusalem; the earth and the heavens will tremble. But the Lord will be a refuge for his people, a stronghold for the people of Israel."
This shaking will be for the unsaved, those trying to straddle the fence. Those who teeter on that dangerous high wire, they will fall on one side or the other. The final choice will be made.
I want to live on a firm foundation, not a slippery slope. I want to know and be confident that God's ways are good and perfect. I want to stay rooted and grounded in His Love and remain steadfast, unmoving.
I may shake and tremble at times. I may stand afraid, but I will stand, and I will not be moved!