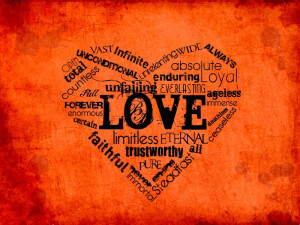 Do you or did you ever wonder why God created you? Why would He even bother? He was complete in Himself. He lacked nothing…
If we look at John 4:16 we can find our answer.
(King James Bible), "And we have known and believed the love that God hath to us. God is love; and he that dwelleth in love dwelleth in God, and God in him."
Love isn't an attribute of God, it isn't one of His characteristics. He IS love. I know that's hard to wrap our head around, but think with your heart for just a minute.
So, back to our question. "Why did God create me?" The answer is simple. Love needs an object of affection. Even though He was complete in Himself, that He didn't need anything, or anyone, He wanted you! God wasn't lonely…that's just silly. But He did want someone to lavish His affection on.
How does that make you feel about Him? Do you trust Him more? Are you more confident in His plan in your life? Does it stop the voices that say He is angry or mad at you, that you don't matter, that no one cares? What happens to your self-worth when you realize God is love and that He loves you, more than you could ever imagine.
The very same scripture the English Standard Version reads,
" Beloved, let us love one another, for love is from God, and whoever loves has been born of God and knows God. Anyone who does not love does not know God, because God is love. In this the love of God was made manifest among us, that God sent his only Son into the world, so that we might live through him. In this is love, not that we have loved God but that he loved us and sent his Son to be the propitiation for our sins. Beloved, if God so loved us, we also ought to love one another. No one has ever seen God; if we love one another, God abides in us and his love is perfected in us." I John 4:7-12 (emphasis mine)
The main way that His love is manifested, obvious to us, is in the fact that He gave His own Son to erase and eradicate our sin, and our sinful nature. It is the Holiday season as I write this and Thanksgiving is just around the corner, with Christmas coming up soon. I am planning my tree and figuring out how I am going to decorate it. I want my home to feel warm and inviting, to show my loved one's how much I love them. Also, this time of year I can't help but think about how much my Heavenly Father loves me. Jesus not only won the tree contest, hanging Himself there as a public display of His love, He won the battle with our enemy! Now the only fight we have to face is the fight of faith, staying strong and secure in His love.
His own shed blood is proof enough of His love, but there is more! He has planned out a whole life for us that is showered in His love. When we step off that path, we remove ourselves from His perfect plan. Even when we do that, once we realize our error, He turns all our bad ideas, wrong choices, and unplanned mishaps, around for our good.
His love isn't fickle, it doesn't waver, because His love isn't an emotion or a feeling. It is who He is! His love is never ending, and never selfish. His love is always free and never has strings attached. He loves Adolf Hitler as much as He loves you. He loves that drug dealer as much as that homeless teen who sells her body for food, and He loves me as much as Mother Theresa. How can that be? Because it is unconditional! No conditions, no strings, there is nothing you could ever do that would change His love for you, not even murder or forsaking Him. Think of the Israelites, who lived under the law, they rebelled and turned away from Him, even choosing to serve false gods. Yet, if you read through the Old Testament, it is full of His love. Was He frustrated, angry, and disappointed in them? You bet, mostly I think He was saddened. Under Grace, which Jesus brought to us, God doesn't get angry at us, ever. He only sees the final outcome. He sees us covered by His blood. He sees us loved and accepted into the beloved. He sees us as His dear children, if we accept that love.
Every person created was created as an object of His affection, but every person created isn't His child. Only those who choose to accept that love and everything it entails, those who choose to be led by His Spirit. Those He calls His.
Romans 8:14 (NIV), " For those who are led by the Spirit of God are the children of God."
He loves you!
You were created to be loved by Him!