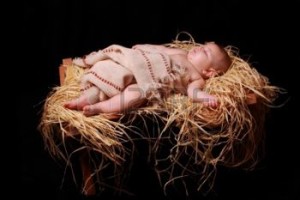 Isaiah 9:2-7 (NIV), "The people walking in darkness have seen a great light; on those living in the land of deep darkness a light has dawned… For to us a child is born, to us a son is given, and the government will be on his shoulders. And he will be called Wonderful Counselor, Mighty God, Everlasting Father, Prince of Peace. Of the greatness of his government and peace there will be no end. He will reign on David's throne and over his kingdom, establishing and upholding it with justice and righteousness from that time on and forever. The zeal of the Lord Almighty will accomplish this."
Darkness. Not just turn off the lights, or lets go into that tunnel, or even a miner without his light, but spiritual darkness. Nothing is blacker, nothing is colder, nothing is as hopeless… until…
A SON was given. The Sun of God, the Light of the World, Immanuel (God with Us), was born in a manger. Not a hall of kings, the Hilton, or even a modest home of a blue collar worker, but in a stable, in a feed trough. "Humbly He came to the earth He created."
What a great picture of love. A bonnie boy lying in those swaddling clothes. Two proud parents looking on in quiet admiration. Angels adoring, shepherds astonished, and a bright northern star shining in that dark night!
The angels sang a song that night… "Glory to God in the Highest!"
Does your day seem dark? Is your heart filled with sadness? Is hope an illusive thing? Take heart, take a peek into that manger, look on the Face of Hope!
A Son was given. He came, He lived, He showed us the Father's love, He died, He rose again, He sits in Heaven, and He LOVES YOU!