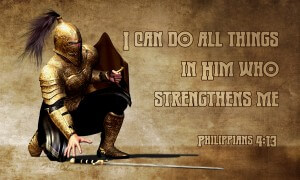 Isaiah 30:15-17 (NIV), "This is what the Sovereign Lord, the Holy One of Israel, says: "In repentance and rest is your salvation, in quietness and trust is your strength, but you would have none of it. You said, 'No, we will flee on horses.' Therefore you will flee! You said, 'We will ride off on swift horses.' Therefore your pursuers will be swift! A thousand will flee at the threat of one; at the threat of five you will all flee away like a flagstaff on a mountaintop, like a banner on a hill."
God gave them a choice. Trust Him, repent, and find rest. In peace and quiet they could find strength. What did they choose? To run. How many of us do just that. When faced with the old choice of "flight or fight," we fly, we flee…we run away. God offers peace and rest and yet instead of running to it, we run away from it. Maybe the road looks scary, but He promises strength and rest.
Paul new all about this choice. He went through some stuff. Viper bites, stoning, beatings, jail time, ship wrecks, and then a messenger from Satan comes to buffet and harass. Notice what God says when Paul asks Him to remove this "thorn."
II Corinthians 12:7-10 (AMP), "And to keep me from being puffed up and too much elated by the exceeding greatness (preeminence) of these revelations, there was given me a thorn (a splinter) in the flesh, a messenger of Satan, to rack and buffet and harass me, to keep me from being excessively exalted. Three times I called upon the Lord and besought [Him] about this and begged that it might depart from me; But He said to me, My grace (My favor and loving-kindness and mercy) is enough for you [sufficient against any danger and enables you to bear the trouble manfully]; for My strength and power are made perfect (fulfilled and completed) and show themselves most effective in [your] weakness. Therefore, I will all the more gladly glory in my weaknesses and infirmities, that the strength and power of Christ (the Messiah) may rest (yes, may pitch a tent over and dwell) upon me! So for the sake of Christ, I am well pleased and take pleasure in infirmities, insults, hardships, persecutions, perplexities and distresses; for when I am weak [in human strength], then am I [truly] strong (able, powerful in divine strength)."
God doesn't take the thorn away. He basically tells Paul to take His strength and "man up." God's grace is sufficient. I used to hear it preached that Paul was supposed to suffer, so God left the thorn. There was even a popular song that said something like, "if the thorn needs to remain," thankfully the Holy Spirit clarified this for me. I had lots of thorns! His GRACE , His power and strength are fulfilled and completed in our times of weakness. That's when He comes through. That way we don't get the glory, He does. He never leaves us in a mess. He always gives us a way out! He promises us that. So He would never leave us to suffer any messenger of Satan. What He does do is give us the authority and the power to overcome any attack. Isn't that good news?
Paul figured it out and then he instructs us on what to do.
Hebrews 12:1-2 (NIV), "Therefore, since we are surrounded by such a great cloud of witnesses, let us throw off everything that hinders and the sin that so easily entangles. And let us run with perseverance the race marked out for us, fixing our eyes on Jesus, the pioneer and perfecter of faith. For the joy set before him he endured the cross, scorning its shame, and sat down at the right hand of the throne of God."
We fix our eyes on Jesus, not the thorn, the trouble, the evidence of Satan's attack. Then we stand and fight like men (or women of God). An older lady from the south said it this way, "play the man." When Jesus was faced with a hard choice, He didn't run. He endured the cross.
So maybe you have run in the past. Maybe that is all that has been modeled for you. It's not too late to change. God is gracious. He longs to be gracious to you.
Isaiah 30:18,21 (NIV), "Yet the Lord longs to be gracious to you; therefore he will rise up to show you compassion. For the Lord is a God of justice. Blessed are all who wait for him…Whether you turn to the right or to the left, your ears will hear a voice behind you, saying, "This is the way; walk in it."
What is the reward for staying to fight?
Revelations 3:5 (NAS), "He who overcomes will thus be clothed in white garments; and I will not erase his name from the book of life, and I will confess his name before My Father and before His angels."