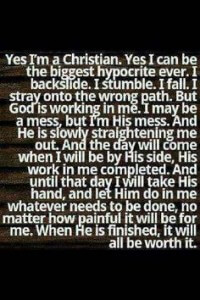 At some point we all ask ourselves the question, "Who am I?" Answers vary. Some say, "I am a McCoy," "I am a writer," "I am a Packer Fan," or "I am a mother." Others may say things like, "I am a college graduate," "I am an alcoholic," or "I am nobody special." Our ideas about who we are run the gambit. The opinions we have about ourselves are mostly rooted in what others may have said about us, or told us about ourselves. Growing up, we may have rebelled about the labels that others have placed on us and determined to prove them wrong. Weather we think of ourselves as important or unimportant, beautiful or ugly, useful or useless, what we think matters.
Why?
Well, you see before we can truly love others, the way God wants us to, we first have to love ourselves. Not in a narcissistic way, where we think too highly of ourselves and only of ourselves, but in a healthy way. Any type of identity crisis will hinder God in our lives. Weather it is pride and selfishness, or low self esteem and self loathing.
So, how do we get a real picture of who we are? How do we have balance in our opinion of ourselves?
Through God's word and the voice of the Holy Spirit.
Do a Bible search! Modern technology is great. Here are just a few scriptures that I found helpful:
Psalm 139:13-18 (NIV), "For you created my inmost being; you knit me together in my mother's womb. I praise you because I am fearfully and wonderfully made; your works are wonderful, I know that full well. My frame was not hidden from you when I was made in the secret place, when I was woven together in the depths of the earth. Your eyes saw my unformed body; all the days ordained for me were written in your book before one of them came to be. How precious to me are your thoughts, God! How vast is the sum of them! Were I to count them, they would outnumber the grains of sand—when I awake, I am still with you."
Galatians 6:3 (ASV), "For if a man thinketh himself to be something when he is nothing, he deceiveth himself."
1 Thessalonians 5:5 (ESV), "For you are all children of light, children of the day. We are not of the night or of the darkness."
Matthew 5 13-14 (NIV), "You are the salt of the earth. But if the salt loses its saltiness, how can it be made salty again? It is no longer good for anything, except to be thrown out and trampled underfoot. You are the light of the world. A town built on a hill cannot be hidden."

Here are a few more "I am's": I am a child of God (John 1:12). I Am a friend of Jesus (John 15:15). I am a new creature in Christ (II Corinthians 5:17). I am His workmanship (Ephesians 2:10). I am a citizen of Heaven (Philippians 5:8). I am love by God (John 3:16). I am chosen by God (Colossians 3:2). That is only a minute portion of what God thinks about you, who He says you are.
So, when Satan tries to tell you you are a loser, and he will, you tell him that God always causes you to triumph (II Corinthians 2:14). When you are feeling depressed, tell yourself, "Why are you downcast, put your hope in God!" Psalms 43:5).When you feel like even your own family doesn't care say, "even if my mother and father forsake me, God cares for me! (Psalm 27:10).
You see, He has an answer for every negative thought, because you are important to Him. So much that He hasn't left us comfortless. His Holy Spirit is here to reveal to us everything God thinks about us. He convinces us of who we are in Christ and convicts us of sin. He keeps us on the right path, if we listen and obey Him.
I never wonder who I am anymore. I know who I am!
I am His!