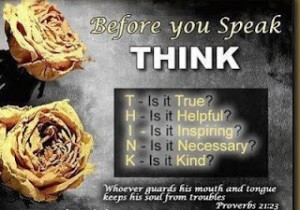 Proverbs 18:20-21 (ESV), "From the fruit of a man's mouth his stomach is satisfied; he is satisfied by the yield of his lips. Death and life are in the power of the tongue, and those who love it will eat its fruits."
Proverbs 18:4, 6-8 (NIV), "The words of a man's mouth are deep waters; The fountain of wisdom is a bubbling brook. A fool's lips bring strife, And his mouth calls for blows. A fool's mouth is his ruin, And his lips are the snare of his soul. The words of a whisperer are like dainty morsels, And they go down into the innermost parts of the body."
Proverbs is full of good advice about our mouths. You can't read too many wise sayings without the subject being addressed. We, in the western world, are too careless with our words. We say whatever pops into our puny minds without counting the cost, without asking ourselves if what we are saying is helpful or hurtful. Yet God clearly tells us that life and death are in the power of our tongue. What are you confessing? Do you whisper and gossip? Does your words bring peace or strife?
James understood the power of our tongue.
James 3:1-12 (NLT), "Dear brothers and sisters, not many of you should become teachers in the church, for we who teach will be judged more strictly. Indeed, we all make many mistakes. For if we could control our tongues, we would be perfect and could also control ourselves in every other way. We can make a large horse go wherever we want by means of a small bit in its mouth. And a small rudder makes a huge ship turn wherever the pilot chooses to go, even though the winds are strong. In the same way, the tongue is a small thing that makes grand speeches. But a tiny spark can set a great forest on fire. And among all the parts of the body, the tongue is a flame of fire. It is a whole world of wickedness, corrupting your entire body. It can set your whole life on fire, for it is set on fire by hell itself. People can tame all kinds of animals, birds, reptiles, and fish, but no one can tame the tongue. It is restless and evil, full of deadly poison. Sometimes it praises our Lord and Father, and sometimes it curses those who have been made in the image of God. And so blessing and cursing come pouring out of the same mouth. Surely, my brothers and sisters, this is not right! Does a spring of water bubble out with both fresh water and bitter water? Does a fig tree produce olives, or a grapevine produce figs? No, and you can't draw fresh water from a salty spring."
Read that again and if that doesn't make you want to control your tongue, read Matthew 12:36 (ESV), "I tell you, on the day of judgment people will give account for every careless word they speak,"
Somewhere in heaven there is an angel recording what you say. How many of us have stuck our foot in our mouth and sputtered something stupid, hurtful, or embarrassing? We all have. Then we prayed that everyone who heard would just forget what we said. It was too late to take it back, we just had to apologize, and hope for the best. What if they never forgot, but wrote it down so that they could bring it up again and ask you to explain what you said…
A smart little Disney bunny once said it this way, "if you don't have somethin' nice to say, don't say nothin' at all." Sometimes the best thing we can do is-shut up.
Proverbs 17:27-28 (NIV), "The one who has knowledge uses words with restraint, and whoever has understanding is even-tempered. Even fools are thought wise if they keep silent, and discerning if they hold their tongues."
Of course if we have something good to say, don't hesitate! We are to encourage and build each other up. We are to have a ready testimony to witness to the lost.
Proverbs 16:24 (NASB), "Pleasant words are a honeycomb, Sweet to the soul and healing to the bones."
Proverbs 25:11 (Holman Christian Standard Bible), "A word spoken at the right time is like gold apples on a silver tray."
Matthew 12:35 (NIV), "A good man brings good things out of the good stored up in him, and an evil man brings evil things out of the evil stored up in him."
The only way we will have good things stored up in us is to put it in there to begin with. God, through His Holy Spirit does deposit revelation in us, but mostly we get it there by reading God's word. Meditate on His goodness. Think about all the blessings in our lives. Where were you before The Father called you into His family? How much have you changed? Get to know God. Stand on His word and build your faith. Then if anyone cringes when you speak it will be because the Spirit is convicting them, not because you just said something foolish.
Our words reveal our character.
Do you have the character of Christ, or the character of this world?