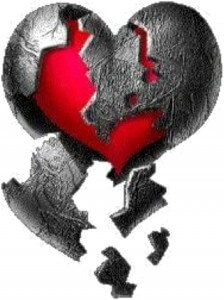 Matthew 5:8 NIV "Blessed are the pure in heart, for they shall see God."
What does it mean to be "pure in heart"? "Unto the pure all things are pure: but unto them that are defiled and unbelieving is nothing pure; but even their mind and conscience are defiled." Titus 1:15. What is in your mind, what is on your conscience? Do your thoughts run to things that lead to temptation, or to see the bad in others? That is an unclean heart, and (dare I say it!), unbelieving heart. If we truly believed that God is who He says He is and that we are who He says we are, as His children, we wouldn't harbor those thoughts. If our own conscience is clear, we don't tend to search for sin in other's lives. We weren't put here to be the "sin police". We were put here to love others and to show them the Father, just like Jesus did. Now that doesn't mean that we "wink" at sin, or deny it. But our purpose is to help deliver them from their sin, to show them the way to Jesus so that they can be cleansed from their sin.
There are so many benefits to maintaining a pure heart. Job 17:9 (AMP) "Yes shall the righteous-those upright and in right standing with God- hold to His way, and he who has clean hands shall grow stronger and stronger." In Job 24:3 God's word continues with, "Who shall go up into the mountains of the Lord? Or who shall stand in His holy place? He who has clean hands and a pure heart, who has not lifted himself up in falsehood, or to what is false, not sworn deceitfully. He shall receive a blessing rom the Lord, and righteousness from the God of his salvation." Do you want to hold to God's way? To receive a blessing from the Lord? To be able to stand in God's holy place? Then keep your heart pure.
Jesus said that is not what goes into the mouth that defiles a man, but what comes out. The Pharisees where complaining that Jesus' disciples hadn't washed their hands before eating. In todays society where everything is antibiotic from soap, lotions, detergents, and baby wipes, where we are so concerned about germs that we are killing off good bacteria and the bad stuff is becoming immune to the antibodies, shouldn't we be concerned about what is already inside of us and trying to spew forth? "For our of the abundance of the heart, the mouth speaks." (Matthew 12:34).
We can sometimes be more concerned about what we shouldn't eat, watch, listen to, etc., and I am not saying that isn't important. But more important is that our hearts are right. Search your heart and see if there is something in there that needs to be removed. Surrender your heart to God. Allow His Spirit to look in those places that even you have been afraid to look at! He's a gentleman. He will not only reveal it to you in a gentle way, He'll help you fill that place up with the goodness of God. Meditate (not by emptying your mind, but by filling it with the word of God) on all His goodness. Remember what He has already brought you out of, how much you have already changed. If you find yourself thinking or speaking negative about anything, be it people, places, or circumstances, STOP. Cast those things down, ask God to forgive you, and anyone who heard you.
We all mess up. All our righteousness is as filthy rags. So take His! His righteousness is given to us at salvation. Then as we keep our hearts pure, we get stronger and stronger. Not is physical muscles, but in spiritual muscle-faith, hope, love, joy, courage, patience, meekness, longsuffering, self control, all those fruit of the Spirit, things we need in this day and age.
"Surely God is good to Israel, Even to such as are pure in heart." Psalm 73:1
"Create in me a pure heart, O God, and renew a steadfast spirit within me." Psalm 51:10,(David wrote this after sinning with Bathsheba, it's never too late!)
"But the end of the charge is love out of a pure heart and a good conscience and faith unfeigned:" I Timothy 1:5
Now get to work! Search out for yourselves some scriptures on pure and clean hearts. A great recourse is this website http://biblehub.com/