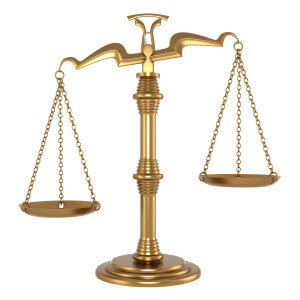 We all have one, a "sin scale", where we weigh those bad things we do. Or worse yet, we use it to excuse our bad behavior or habits by saying to ourselves, "my white lie I told my boss is only a two, my co-worker's adultery is a seven…at least my sin is not as bad as his." A lot of us, who claim to be Christians, love to point out the sin of homosexuality, armed robbery, murder, child abuse, and so on, and if there really was a scale, we would all agree that those probably are off the chart. However, there is no such thing as a "sin scale."
To God, sin is sin. There isn't some worse than others, and even more importantly, sin really isn't an action or lack of one, it's a nature! Those horrible, or less-than-righteous things we do aren't in themselves the sin, they are a symptom or a corresponding action to our sin nature. We are all born with one, due to the fall of mankind in the Garden of Eden. But, praise God, when we surrender our hearts to Him, he gives us His nature. His nature isn't sin! We are then the righteousness of God in Christ Jesus. We aren't as good as God, but we are as right as Him. Not from anything we did, or can do, but because of what Jesus did. Because we aren't as good as God, we aren't perfect, we continue to mess up, and miss the mark.
Matthew 19:7 (KJB), "And he said unto him, Why callest thou me good? there is none good but one, that is, God: but if thou wilt enter into life, keep the commandments."
Thankfully, since Jesus died for our sins, we just confess and turn back to God. Soon we sin less and less. Our sin doesn't make us "sinners" because we don't get our old nature back; we still maintain our rightness with God as long as we humble ourselves and repent.
So instead of trying to excuse, or weigh our bad behavior, instead we should be trying to please God. We need to have faith in Him, be confident that He is doing a work in us, that we are being changed from the inside out. God had told us that without faith it is impossible to please Him (Hebrews 11:6). We need to hear Him, believe in His great power, stand firm on His word.
Let's take a look at what Jesus said to His disciples as He sent them out:
Matthew 10:11-15 (NIV) "And whatever city or village you enter, inquire who is worthy in it, and stay at his house until you leave that city. As you enter the house, give it your greeting. If the house is worthy, give it your blessing of peace. But if it is not worthy, take back your blessing of peace. Whoever does not receive you, nor heed your words, as you go out of that house or that city, shake the dust off your feet. Truly I say to you, it will be more tolerable for the land of Sodom and Gomorrah in the day of judgment than for that city."
He said, "Whoever does not receive you, nor heed your words…it will be more tolerable for the land of Sodom and Gomorrah in the day of judgment." If you still have that sin scale on your mind, this should wipe it away. Not heeding, not hearing His "Good News" is worse than the sins of Sodom and Gomorrah…
Shall we continue?
Matthew 11:23-24 (NIV), "And you, Capernaum, will not be exalted to heaven, will you? You will descend to Hades; for if the miracles had occurred in Sodom which occurred in you, it would have remained to this day. Nevertheless I say to you that it will be more tolerable for the land of Sodom in the day of judgment, than for you."
Jesus came to point the way to the Father, He showed God's love and mercy, forgiveness and kindness. Had those miracles been shown in Sodom, He says that it never would have been destroyed, inferring that they would have believed and repented!
Sin is sin. We can't categorize it, weigh it, label it, or whitewash it. The only remedy for sin is surrender. Humble yourselves under the mighty hand of God and He will lift you up (James 4:10). He doesn't cover it, as the blood of sacrifices did under the old covenant, He takes it away, and then even better, He forgets about it!
How many times have I stood at the altar (figuratively or literally) and thought to myself, "at least I am not like so-and-so" or "at least I have never done that"? Sound familiar?
Luke 18:9-14 (ESV), "He also told this parable to some who trusted in themselves that they were righteous, and treated others with contempt: Two men went up into the temple to pray, one a Pharisee and the other a tax collector. The Pharisee, standing by himself, prayed thus: 'God, I thank you that I am not like other men, extortioners, unjust, adulterers, or even like this tax collector. I fast twice a week; I give tithes of all that I get.' But the tax collector, standing far off, would not even lift up his eyes to heaven, but beat his breast, saying, 'God, be merciful to me, a sinner!' I tell you, this man went down to his house justified, rather than the other. For everyone who exalts himself will be humbled, but the one who humbles himself will be exalted."
How dare we stand like that Pharisee and think that somehow we are better because we placed our sin on the sin scale of our own making, and declared ourselves more righteous. As the body of Christ, we pray for souls, or should be, so we need to ask God to forgive us for expecting those souls to be rich, well dressed, un-broken, and good. Those very people we have looked down our noses at, those are the ones that our loving Father wants us to reach out to with His love. Separating ourselves from those who live in the world, can't get us saved any more than hanging out with them will get us unsaved.
When they accused Jesus of wrongdoing when they found him eating and fellowshipping with sinners, His response was, "It is not the healthy who need a doctor, but the sick. I have not come to call the righteous, but sinners." (Mark 2:7)
We don't do what they do, we don't participate in their wrong behavior, but we show them a better way. Hate doesn't lead to repentance, judgmental attitudes won't, God's goodness will.
I think I will close with this scripture:
Luke 6: 35-35 (NASB), "But love your enemies, and do good, and lend, expecting nothing in return; and your reward will be great, and you will be sons of the Most High; for He Himself is kind to ungrateful and evil men. Be merciful, just as your Father is merciful. Do not judge, and you will not be judged; and do not condemn, and you will not be condemned; pardon, and you will be pardoned. Give, and it will be given to you. They will pour into your lap a good measure—pressed down, shaken together, and running over. For by your standard of measure it will be measured to you in return