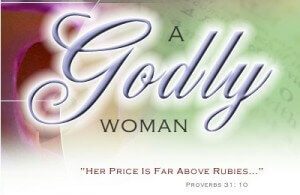 God has placed wonderful callings on women. He has called us to be nurturers, homemakers, teachers, sisters, daughters, wives, mothers, and grandmothers. Special traits, talents, and gifts have been placed in each one of us to make a difference in the lives of others. God put them there. He gave according to the plan He has for us. The road He has mapped out for each one of us is like no other. No two are the same. We each have to walk out our own path in our own ways. Because we are women, we aren't afraid to ask for help, or to ask for direction. We build relationships easier than men.
There is a lot of talk about being part of a "brotherhood," a common term is "a band of brothers." I think the men of the Kingdom of God need that! For the most part we women have already had it. If we don't let our lives get too busy and bog us down, if we don't let Satan distract us.
Let's look at a few scriptures about women:
Titus 2:3-5 (NLT), " Similarly, teach the older women to live in a way that honors God. They must not slander others or be heavy drinkers. Instead, they should teach others what is good. So that they may encourage the young women to love their husbands, to love their children, to be sensible, pure, workers at home, kind, being subject to their own husbands, so that the word of God will not be dishonored."
1 Timothy 3:11 (NLT) " In the same way, the women are to be worthy of respect, not malicious talkers but temperate and trustworthy in everything."
There is something for all of us to do in the body of Christ! We can teach each other so much. We can encourage one another and impart some wisdom. We are to love our husbands and children, be sensible, pure, do our work at home, be kind, and stay submitted to our husbands, as the head of the house. Notice that there are a few things we aren't supposed to do as well. Both verses talk about slander and malicious talk. Women tend to love gossip. Stay away from that. I even think you should stay away from those "Reality shows" and tabloid magazines, sometimes even Yahoo news. They are all about revealing the unsavory parts of someone's life. Don't be a part to that, even if it is just watching it. We also need to stay sober, honor God, and not dishonor the word.
Our roll as mothers:
Proverbs 29:15 (KJV), "The rod and reproof give wisdom: but a child left [to himself] bringeth his mother to shame."
Proverbs 22:6 (ESV), "Train up a child in the way he should go: and when he is old, he will not depart from it."
Deuteronomy 6:5-9 (ESV), "You shall love the Lord your God with all your heart and with all your soul and with all your might. And these words that I command you today shall be on your heart. You shall teach them diligently to your children, and shall talk of them when you sit in your house, and when you walk by the way, and when you lie down, and when you rise. You shall bind them as a sign on your hand, and they shall be as frontlets between your eyes. You shall write them on the doorposts of your house and on your gates."
Sometimes as mothers, we want to leave all the discipline to our husbands. I think that as parents we have to show an undivided front. We both need to be part of this process. Remember disciplining is not the same as punishment. In disciplining our child, we teach them. We don't leave them to their own devices. Foolishness is bound up in their hearts! Their ways are crazy and sometimes dangerous. So we put boundaries, expect them to respect them, and then give a consequence if they do not, and sometimes that rod of correction needs to meet their seat of understanding! It works. The best way to "train up a child" is to set a Godly example. Even if our kids are grown, there are other people's kids that are watching us. When we mess up, fess up. Be real. Don't use that as an excuse to vent and apologize, but we all make mistakes. Notice it doesn't say "yell and scream at your child and expect them to change." We deal calmly with anyone we need to correct. Sometimes we may have to raise our voice to get their attention, but losing control of our own emotions isn't teaching them self-discipline.
Our roll as wives/helpmates:
Proverbs 31:10-30 (ESV), "An excellent wife, who can find? For her worth is far above jewels. The heart of her husband trusts in her, and he will have no lack of gain. She does him good and not evil all the days of her life. She looks for wool and flax and works with her hands in delight. She is like merchant ships; she brings her food from afar. She rises also while it is still night and gives food to her household and portions to her maidens. She considers a field and buys it; from her earnings she plants a vineyard. She girds herself with strength and makes her arms strong. She senses that her gain is good; her lamp does not go out at night. She stretches out her hands to the distaff, and her hands grasp the spindle. She extends her hand to the poor, and she stretches out her hands to the needy. She is not afraid of the snow for her household, for all her household are clothed with scarlet. She makes coverings for herself; her clothing is fine linen and purple. Her husband is known in the gates, when he sits among the elders of the land. She makes linen garments and sells them, and supplies belts to the tradesmen. Strength and dignity are her clothing, and she smiles at the future. She opens her mouth in wisdom, and the teaching of kindness is on her tongue. She looks well to the ways of her household, and does not eat the bread of idleness. Her children rise up and bless her; her husband also, and he praises her, saying: "Many daughters have done nobly, but you excel them all." Charm is deceitful and beauty is vain, but a woman who fears the LORD, she shall be praised. Give her the product of her hands, and let her works praise her in the gates."
The Proverbs woman takes care of her man, her children, and her servants. I love that she has servants. That means she has money. She, unlike modern women, doesn't work outside of the home. However, she does work. She oversees her household, delegating tasks. Then she sells her wares that she has made with her own hands, buys property and is NOT stressed about the future. She lives in a way that people notice, for good, and her family can be proud of her. How many of us have had our children tell us, or have overheard a conversation where they are bragging on us? Doesn't that just do something in a mother's heart? Or what about a heartfelt show of appreciation from our husbands? Those are reasons enough to live right, but pleasing God is even higher on the list. Let's face it, more often than not, our days aren't filled with praise and appreciation. Most days our toils go unnoticed or taken for granted. On those days, remind yourself that you are doing it for the Lord, and that no matter what, the day will come when your family will notice and be grateful. On our 25 wedding anniversary, we celebrated by renewing our vows and having a reception at our Church. As we were leaving (first time I didn't stay and help clean up after a Church function) my daughter came running out to the car, crying, and was able to choke out something like this, "I just wanted to say that I am so thankful that the two of you stayed together all of these years and were such great examples of love to me." It may take years, but they do notice.
Being a woman is a gift! I love being a woman. We can be girlie-girls, love makeup and clothes, and we can be strong and courageous, defending our family like a mama bear. God has gifted us, anointed us, and ordained us as women. We aren't competing with men, despite what the "women's liberation" group may try to convince us of. We work along side them, as help mates. Together as a team, we work the work of the Kingdom. Do men sometimes get paid more? Yes. Do they sometimes get more recognition? Yes. Is that really important to the Kingdom? NO! Use the gifts God gave you, to the best of your ability, and don't worry about the rest. God has your back.
Be thankful! And be blessed