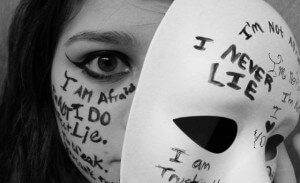 Romans 12:9 (NASB), "Let love be without hypocrisy. Abhor what is evil; cling to what is good."
James 3:17 (KJB), "But the wisdom that is from above is first pure, then peaceable, gentle, and easy to be intreated, full of mercy and good fruits, without partiality, and without hypocrisy."
There is nothing that irritates me more than phony people. After years of working with kids, it was obvious that they can spot a phony from a mile away. Jesus railed on the Pharisees for being fake and phony.
Matthew 23:23-33 (NIV), "Woe to you, scribes and Pharisees, hypocrites! For you tithe mint and dill and cummin, and have neglected the weightier provisions of the law: justice and mercy and faithfulness; but these are the things you should have done without neglecting the others. "You blind guides, who strain out a gnat and swallow a camel! "Woe to you, scribes and Pharisees, hypocrites! For you clean the outside of the cup and of the dish, but inside they are full of robbery and self-indulgence. "You blind Pharisee, first clean the inside of the cup and of the dish, so that the outside of it may become clean also. "Woe to you, scribes and Pharisees, hypocrites! For you are like whitewashed tombs which on the outside appear beautiful, but inside they are full of dead men's bones and all uncleanness. "So you, too, outwardly appear righteous to men, but inwardly you are full of hypocrisy and lawlessness. "Woe to you, scribes and Pharisees, hypocrites! For you build the tombs of the prophets and adorn the monuments of the righteous, and say, 'If we had been living in the days of our fathers, we would not have been partners with them in shedding the blood of the prophets.' "So you testify against yourselves, that you are sons of those who murdered the prophets. "Fill up, then, the measure of the guilt of your fathers. "You serpents, you brood of vipers, how will you escape the sentence of hell?"
There were a lot of things He could have found fault with, their non acceptance of Him for one, but what He calls them on the carpet for is their hypocrisy, their phoniness, the fact that they wanted to appear righteous, but on the inside were still full of sin. I love the analogy of the whitewashed tomb! Now, before we judge those Pharisees too harshly, let's take a quick look at The Church. Historically, we have spent more time trying to change our out word appearance than our hearts and minds. Some denominations have lists of what you can wear, what you can eat, and who you can hang out with; they even want to regulate how you can pray. Again, if you don't go to one of those Churches, let me caution you not to judge before we take a look at our own lives.
How many of us put on our "Christian Mask" before going to Church on Sunday, or when we invite the Pastors over to our house for dinner? How many of us behave and talk one way at work and at home, but behave in a completely different manner at Church? Do you hide your past? Are you afraid to share what is in your heart, the temptations that you face? Then we are a new breed of Pharisee. It ought not to be so!
It is time that we are real. We have not been perfected yet. We are all working out our own salvation with fear and trembling. Putting on a "mask" is detrimental to the Body of Christ. People can see through the cracks and they will label you as a hypocrite. This never brings glory to God. The whole concept of the mask is to either hide your insecurities, or because you are full of pride. It's either one or the other. Neither one is about Him, and neither one will build the Kingdom. When we accept the liberty that Jesus bought for us, that God has called us to, we don't have to wear a mask. Our security and confidence isn't in what we can do, it's in the finished work of Christ. We also have nothing to be proud of, it wasn't our righteousness, it was and is all His.
This is the way God showed me the whole concept of being real: I saw a scarecrow in the middle of my garden; he had the shabby clothes, the worn hat, the burlap bag face, and straw sticking out everywhere. His job, his calling was to keep pests out of the garden. God then asked me a simple question, "Why does the scarecrow look like a man?" My immediate answer was that crows and other little garden pests are afraid of men. So, the scarecrow is a fake man. He isn't real, he can't move, talk, or yell at the pests. He can't fire a BB gun, or bang a few pans together. He just stands in one place and pretends to be a real man. That is a picture of us when we "play Church" or put on our Christian mask. Just like Pinocchio wanted to be a real boy, shouldn't we want to be real Christians? That scarecrow will work for a while, maybe longer on some of the less than sharp minded pests, but eventually they will figure it out. We have all seen scarecrows with crows perching right on their heads or outstretched arms. That is like us trying to wear our mask and rebuking the devil. He is smarter than any crow or rabbit. He knows who is really surrendered to God and who isn't. He has to obey those that don't wear the mask. He doesn't have to obey the ones who are pretending to follow Christ.
We don't even have to be perfect! To walk in our calling and fulfill the purposes and plans God has for us, we just have to be real and to allow the Spirit to lead us, humbly allowing ourselves to grow in the things of the Lord. So what if you are still a babe in Christ, that's better than being a carnal Christian. Determine to grow up and in the meantime, serve Him. Let's go back to the garden analogy again. Let's say the pests have gotten wise to our friendly scarecrow, so instead we put a three year old in the garden. Can that little one fulfill the call? You bet! They may trample a few plants, and get distracted by a few bugs and butterflies, but they will make enough noise and move around enough to keep every pest away. The few plants that get lost can't compare to the damage that those pesky pests can destroy. I know I had every bean and pea plant destroyed by those cute little bunnies! The goal would be that as that little one grew up, less damage would be done, and there would be more focus and fewer distractions.
God is that patient with us. He isn't waiting for us to be perfect to use us. He doesn't want us to pretend that we are, that again is either pride or insecurity. We are real, we make mistakes, we get distracted, and we stumble. However, God tells us that the righteous may stumble, but that they keep getting back up. (Romans 24:16, Psalm 27:34)He also promises that those who obey Him, and love Him, that even if they make a mistake, He will turn in around for our good. (Romans 8:28) He chose us, the messed up ones, on purpose. When we get something done for the Kingdom, or stand up and rebuke the enemy, or resist temptation, it's not us, it's Him in us, and He gets all the glory!
God has called us to liberty. In this freedom, through Christ, there is never any reason to put on an act, to pretend we are something we aren't. We aren't sinners saved by grace. We were sinners, now we are the righteousness of God in Christ Jesus. No, we aren't perfect, far from it in fact, but God chose us, He called us, and if anyone has an issue with who we are then they can take it up with God. This is never permission to sin, or to cause others to stumble. We stay humble and acknowledge our need for Him. We allow the Holy Spirit to use us. The key word is USE. God wants to use you. He wants to use us. He has big plans for us. Walk in the liberty He gave you. You can't earn it, it is a gift.
Get real with God, with each other, and most importantly with yourself. Be who God created you to be.
Take off the mask.