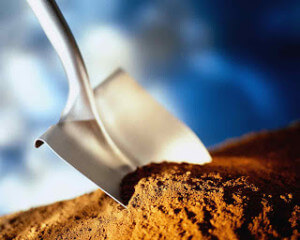 Matthew 24:14-30 (NIV), "For it is just like a man about to go on a journey, who called his own slaves and entrusted his possessions to them. To one he gave five talents, to another, two, and to another, one, each according to his own ability; and he went on his journey. Immediately the one who had received the five talents went and traded with them, and gained five more talents. "In the same manner the one who had received the two talents gained two more. But he who received the one talent went away, and dug a hole in the ground and hid his master's money. Now after a long time the master of those slaves came and settled accounts with them. The one who had received the five talents came up and brought five more talents, saying, 'Master, you entrusted five talents to me. See, I have gained five more talents.' His master said to him, 'Well done, good and faithful slave. You were faithful with a few things, I will put you in charge of many things; enter into the joy of your master.' Also the one who had received the two talents came up and said, 'Master, you entrusted two talents to me. See, I have gained two more talents.' His master said to him, 'Well done, good and faithful slave. You were faithful with a few things, I will put you in charge of many things; enter into the joy of your master.' And the one also who had received the one talent came up and said, 'Master, I knew you to be a hard man, reaping where you did not sow and gathering where you scattered no seed. 'And I was afraid, and went away and hid your talent in the ground. See, you have what is yours.' But his master answered and said to him, 'You wicked, lazy slave, you knew that I reap where I did not sow and gather where I scattered no seed. Then you ought to have put my money in the bank, and on my arrival I would have received my money back with interest. Therefore take away the talent from him, and give it to the one who has the ten talents. For to everyone who has, more shall be given, and he will have an abundance; but from the one who does not have, even what he does have shall be taken away. Throw out the worthless slave into the outer darkness; in that place there will be weeping and gnashing of teeth.'
Every job interview I have ever had they asked me my strong points and I always said, "I am a fast learner." But, I am sure that God would disagree. I am reading through the bible in chronological order and am now in the New Testament. So I read this parable in a few different versions, and in a few different books. The wording wasn't exactly the same, but in all of them the "wicked servant" didn't use his talent. He hid it, or as in this version in Matthew he buried it. As I was fasting and praying this week, one of the petitions I lifted up to the lord was that my published books would sell. I had seen little or no sells month after month even though my books were going pretty steady for quite some time. I rebuked delay, I commanded them to sell, I thanked God for the finances, and that the books would be a blessing to those who read them. When I got around to thanking Him for my talent…this verse popped in my head and God spoke into my heart, "don't bury your treasure."
You would think the light would have come on then. In my defense I hadn't eaten any food for some days and my mind was a little foggy. I did think that that would make good teaching on my blog so I stopped by the table in my prayer walk and wrote down "DON'T BURY YOUR TREASURE," and continued to pray. It wasn't until two days later as I was pondering my lesson for Ladies Bible study that the light came on. So maybe I am not always a fast learner but thank God He has patience with us.
My books pretty much stopped selling when I stopped writing on a consistent basis. I even ran into a parent of one of my past students and she asked me how the writing was going. I was honest and said I hadn't done much and pointed to my beautiful nine month old grandson who I have been watching every day while his parents are at work. Finally I see that all my prayers, begging, frustrations were for nothing. My books weren't selling not because Satan was withholding, or because God wasn't blessing, it wasn't because I was self published and I wasn't doing enough marketing, it was because I had buried my talent.
It is so important that we use what God has given us, for His Glory!
II Timothy 1:6 (Holman Christian Standard Bible), "Therefore, I remind you to keep ablaze the gift of God that is in you through the laying on of my hands."
Paul had to remind Timothy to "stir up" the gift that God had placed in Timothy's life. He didn't say, "Ask God to fan the flames and get you going again." It is something each one of us has to do for ourselves. We have already been given the talents, the gifts, the character traits that God needed in us so that we could do what He has asked us to do. He put them there. Now it is our job to use them and when things seem to settle on the bottom we have to stir up the pot. He chose what He placed in us. It's amazing that our simple mortal bodies can contain such wonderful gifts. When we see someone who can really sing or play an instrument we can't help but acknowledge that they got that gift from a loving Father, even if they aren't using the gift for Him, He is still the one who put it there.
II Corinthians 4:7 (NIV), "But we have this treasure in jars of clay to show that this all-surpassing power is from God and not from us."
Even some of the most wicked, worldly entertainers us the words, "I give God the glory" when accepting their awards and we know they are not in relationship with Him. How much more should we be using our gifts and talents to honor and glorify Him. If we are using them to glorify ourselves, we have stolen His glory. Those that I mentioned above may be doing lip service, but they haven't truly glorified God, their messed up lives have a louder messages. Their pride and arrogant lifestyle negate the few words they speak at awards night. A vessel of honor doesn't allow its contents to be used for dishonorable things.
It doesn't matter if we've been given one, two, or many talents, what matters is what we do with what we have.
Charles H. Spurgeon in one of his sermons on the subject had this to say,
"You say, when such a man dies, who stood in the midst of the church, a triumphant for the truth, the angels will crowd to heaven's gates to see him, for he has been a mighty hero, and done much for his Master. A Calvin or a Luther, with what plaudits shall they be received! — men with talents, who have been faithful to their trust. Yes, but know ye not, that there is many a humble village pastor whose flock scarcely numbers fifty, who toils for them as for his life, who spends hours in praying for their welfare, who uses all the little ability he has in his endeavor to win them to Christ; and do ye imagine that his entry into heaven shall be less triumphant than the entry of such a man as Luther? If so, ye know not how God dealeth with his people. He giveth them rewards, not according to the greatness of the goods with which they were entrusted, but according to their fidelity thereunto, and he that hath been faithful to the least, shall be as much rewarded, as he that hath been faithful in much … Ah! if there be degrees in glory, they will not be distributed according to our talents, but according to our faithfulness in using them."
Having talents and gifts and not using them at all is like burying your treasure. It isn't benefiting you and it certainly isn't brining glory to God. How foolish would we think the next Publisher's Clearinghouse winner, if they took their winnings and just buried it somewhere to rot away. Or think of those people who "hoard" things. If you've ever watched the show you know what happens…it spoils, it smells, it ruins, and rots.
Maybe you don't see any talent in yourself. Sometimes, like my writing, it just needs to be developed. Other times you may be overlooking your talent or gift because it isn't as obvious as musical ability or artistic ability. A good example is my husband. He is mechanically inclined and can fix just about anything. He has not only used this talent (just one of his many) to keep our own cars and appliances in working order, he has helped countless others with similar issues. He has used this talent to bless others. Or think of someone you know who loves children, maybe they aren't great at teaching, but they sure know how to hug, and rock, and play with the little ones. Often you find them volunteering in nursery or working at a daycare. Then there are those who use their talents to provide for their families, or to earn a lot of money and distribute to the poor, or give into the Church. There are many ways to use our talents that glorify the Lord. One is not better than another. My husband's mechanical talent isn't less than Aaron Roger's talent in sports, or Adam Levin's singing talent. They are all supposed to be used for good, and they are all important to God's plan.
So what is your talent?
What are you going to do with it?