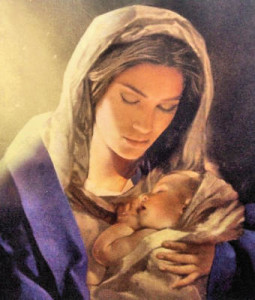 One of my favorite Christmas songs is "Mary Did You Know" so over the years I have pondered that very question and thought about what it must have been like to be the mother of "Immanuel," God with us.
In the book of Luke we are introduced to this young woman named Mary. She is engaged to Joseph. Gabriel, an angel of the Lord visits her and shares these words, "Greetings to you who are highly favored! The Lord is with you. Do not be afraid, Mary, you have found favor with God. You will be with child and give birth to a son, and you are to give Him the name Jesus. He will be great and be called the Son of the Most High. The Lord God will give Him the throne of His father David, and He will reign over the house of Jacob forever, His kingdom will never end. The Holy Spirit will come upon you, and the power of the Most High will overshadow you so the Holy One born to you will be called the Son of God."
In the book of Matthew, her fiance, Joseph, also gets a visit from Gabriel. He had been trying to figure out a way to call off the engagement without bringing shame to Mary. The angel¬ tells Joseph, "Don't put Mary away. What is conceived in her is from the Holy Spirit. She will give birth to a son, and you are to give Him the name Jesus, because He will save His people from their sins."

The name Jesus in Hebrew means "Savior."
The night Jesus was born in that animal shelter a great multitude of angels appear to the humble shepherds and tell them, "Unto you is born this day a Savior." When they go to see the child, they share all that the angels told them with Mary and Joseph.
At the temple for Jesus' dedication, two witnesses speak of who He was. Simeon had been promised by the Lord that he wouldn't die before seeing the Messiah. When Mary and Joseph bring their little one into the temple, he gathers the baby into his arms and says, "Now Lord, you can let Your bond servant depart in peace according to Your word. For my eyes have seen Your salvation. Which You have prepared in the presence of all peoples. A light of revelation to the Gentiles and the Glory of Your people."
He goes on to share with Mary, "Behold this Child is appointed for the fall and rise of many in Israel and for a sign to be opposed- and a sword will pierce even your own soul."
The other witness at the temple is the prophetess Anna, who lives at the temple, worshipping, fasting and praying continually. She speaks to the parents of redemption in Jerusalem.
Mary at all of these things spoken to her by Gabriel, her cousin Elizabeth, the Shepherds, the Wiremen, Simeon, and Anna, treasures them and ponders them in her heart.
So, back to our question: Mary (and Joseph) did you know? I would have to say, "yes" they did. Maybe not everything, God doesn't work that way. He expects us to live by faith after all. But those two knew who Jesus was, knew He was Holy, knew He was "God with Us." What an awesome and awful responsibility! Yes, an honor, and yes, Mary is blessed, but think about it. We are so paranoid, partially thanks to people like Sigmund Freud, that we are going to mess up our kids. That somehow we are going to not be strong enough, soft enough, give the right advice, give the right gifts, spend enough time, the list is long, and that they won't be who they are supposed to be. What if you had been in Mary's shoes?
Clearly, scripture tells us that she pondered these things in her heart. It doesn't tell us that she worried, or fretted, or ended up being some psychotic overprotective parent. The only time we read about her experiencing any anxiety is when they left Jerusalem without Him and didn't find Him for three days. Even Jesus at that time, age twelve, expected His parents to understand that He had work to do.
Why is important to know that Mary and Joseph had an understanding of who their little one was? Because we have all been given the same task, as parents, we have been given a child to raise. Granted they aren't deity, though we sometimes think that way in our own hearts, but they each have a purpose and God has destined them for great things. Should that stress us out? No. We should "treasure it up and ponder it in our hearts" as Mary did. Why did God choose her? The only answer I have for that is that He knew she was the best person for that job.
Isn't that why he chose you?
It isn't a mistake that you have the children that you do. He chose you. You are the best person for the job.
Walk in faith. Trust God and be led by His Spirit.
Your children, just like Jesus, are destined for greatness!