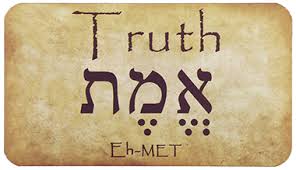 We have all heard the saying "truth is relative", meaning that it depends on the circumstance, or the person, or some other outside influence. When Pontius Pilot is having a conversation with Jesus before the crucifixion he voices the same belief after Jesus tells him that "I came to testify of the truth".
John 18:38 (NIV), "What is truth?" retorted Pilate. With this he went out again to the Jews gathered there and said, "I find no basis for a charge against him."
That common philosophy of Pilot's day is still common in our day. So many people talk about the "grey areas" or that "there is no black and white, just different shades of grey." I disagree.
Jesus made it very clear. There is TRUTH and it is HIM.
John 14:6 (NIV), "Jesus answered, "I am the way and the truth and the life. No one comes to the Father except through me."
Instead of saying, "truth is relative" he said, "TRUTH is my relative". I love that. I am one with Christ, a joint heir, a son of God, and Jesus is the way, the truth and the light, so I am related to Him.
God's word is true, He is not a man that He should lie, and Jesus is the Living Word.
His word is alive! And it is True!
Truth isn't relative, but He is my Relative.
Be blessed.