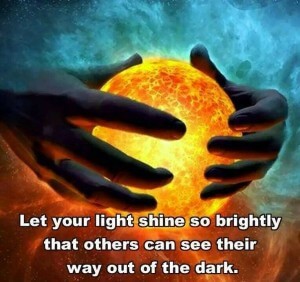 Philippians 2:15 (Holman Christian Standard Bible), "so that you may be blameless and pure, children of God who are faultless in a crooked and perverted generation, among whom you shine like stars in the world."
The world sometimes feels like it is "going to Hell in a hand basket" doesn't it? Sometimes we may even feel like just giving up. However, God says we are supposed to "shine." That doesn't mean light ourselves on fire, or try to be a shooting star catching everyone's attention in our fifteen minutes of fame, and then burning out or crashing into a million pieces. What is "star" supposed to look like in this perverse world? Let's read some more of Paul's letter to the Church at Philippi.
Philippians 2:12-16 (AMP), "Therefore, my dear ones, as you have always obeyed [my suggestions], so now, not only [with the enthusiasm you would show] in my presence but much more because I am absent, work out (cultivate, carry out to the goal, and fully complete) your own salvation with reverence and awe and trembling (self-distrust, with serious caution, tenderness of conscience, watchfulness against temptation, timidly shrinking from whatever might offend God and discredit the name of Christ). [Not in your own strength] for it is God who is all the while effectually at work in you [energizing and creating in you the power and desire], both to will and to work for His good pleasure and satisfaction and delight. Do all things without grumbling and faultfinding and complaining [against God] and questioning and doubting [among yourselves],That you may show yourselves to be blameless and guileless, innocent and uncontaminated, children of God without blemish (faultless, unrebukable) in the midst of a crooked and wicked generation [spiritually perverted and perverse], among whom you are seen as bright lights (stars or beacons shining out clearly) in the [dark] world, holding out [to it] and offering [to all men] the Word of Life, so that in the day of Christ I may have something of which exultantly to rejoice and glory in that I did not run my race in vain or spend my labor to no purpose."
That sound pretty simple and straight forward to me. In God's strength we are working out our own salvation, while we do all things without complaining. We show ourselves blameless, behave like His children. When everyone else is floating downstream in the current of vileness and corruption, we swim upstream towards the source of the clean water.
Ok, so my post today if full of cliche's. Maybe not all original, but let's face it, we are called to liberty, called to show His love, and called to do good works. Isn't it time to stop burying our treasure and hiding?
Matthew 5:15-16 (NIV), "Neither do people light a lamp and put it under a bowl. Instead they put it on its stand, and it gives light to everyone in the house. In the same way, let your light shine before others, that they may see your good deeds and glorify your Father in heaven."
Don't look at what others are doing around you, unless they are following Jesus. If they are, follow them; otherwise keep your eyes fixed on Him. Use those gifts and talents He has placed in you before you were even born. The world may get worse as the days get closer to His return, but we are called to a different path. One that will cause people to notice and want what we have.
Isaiah 60:1-5 (KJV), "Arise, shine; for thy light is come, and the glory of the LORD is risen upon thee. For, behold, the darkness shall cover the earth, and gross darkness the people: but the LORD shall arise upon thee, and his glory shall be seen upon thee. And the Gentiles shall come to thy light, and kings to the brightness of thy rising. Lift up thine eyes round about, and see: all they gather themselves together, they come to thee: thy sons shall come from far, and thy daughters shall be nursed at thy side. Then thou shalt see, and flow together, and thine heart shall fear, and be enlarged; because the abundance of the sea shall be converted unto thee, the forces of the Gentiles shall come unto thee."
It's time to SHINE!