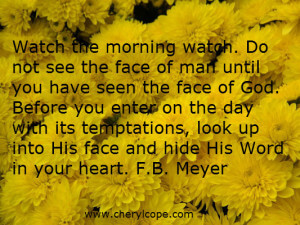 Isaiah 40:28-31 (NLT), "Have you never heard? Have you never understood? The Lord is the everlasting God, the Creator of all the earth. He never grows weak or weary. No one can measure the depths of his understanding. He gives power to the weak and strength to the powerless. Even youths will become weak and tired, and young men will fall in exhaustion. But those who trust in the Lord will find new strength. They will soar high on wings like eagles. They will run and not grow weary. They will walk and not faint."
Sometimes I feel like I have the strength of a wet noodle. The day seems so much longer than my energy reserve or my nerves seem more frayed than the cuffs of my favorite sweater. Something unexpected comes along and the though goes through your head, "give me a break," or that last minute request from a loved one just about sends you over the edge. On those days my husband says, "I feel like I have been going a hundred miles an hour." My favorite one seems to be, "I feel like I have been drug through a knothole backwards." Do you ever have those days?
It took me a while to discern a pattern on those days. I can pretty much predict when they will come now. They don't have so much to do with what does happen during the day as what didn't happen during the day. If I jump out of bed (honestly I never jump, I roll and yawn, and shuffle) without spending some time in prayer that will not be a banner day. My daily schedule during the week starts with a time of devotions, bible reading, and prayer. Since I am an empty nester, it is much easier now to do this. When the kids were at home, and when they were little, it was much harder. Now, I set my alarm early so that I have time to pray with my husband before he leaves for work. Then I am up to let the dog out, make my coffee and unload the dishwasher, I found I have just enough time to do this while coffee is perking and dog is doing his thing. Next, I am back in my bed, with pillows propped, bible in hand and doing my daily reading. At this point in the day I just read through my bible, either chronologically or straight thru, it usually takes me about a year to do this. After my reading time I either talk to God about what I have just read, and then pray, or I pray and allow Him to talk to me while I pray. I keep a prayer journal and my daily entries help me see answered prayers.
This is my favorite time of the day. The house is quiet, I am not distracted by jobs that need to be done, and I am comfortable with my coffee. If I start my day this way, the world, the devil, or my own stupidity can throw me a sucker punch, but it doesn't knock me down. There are some days that things don't work out, maybe my grandson is coming earlier, or my husband needs some help with something in the morning, and my morning routine is altered. On those days, I make a point of finding some time later in the day. I determine to have a thankful heart and keep the lines of communication open. Sometimes I have to remind myself that it isn't a "magical" routine that promises a good day. It also isn't something I have to do to earn God's blessings for the day. If we are on vacation, have company, or something else gets in the way, God isn't sitting in heaven thinking, "you're on your own today, you didn't devote yourself to me this morning."
What those times do, especially first thing in the morning, is remind us that God is good, that He loves us, and we have that special time of fellowship with Him. It builds a relationship with our Father. That way we burn for Him instead of getting burnt out. Burn out happens when we don't take the time to refresh ourselves in Him. That fire inside of us, is supposed to be like a beacon to the lost, not a forest fire that destroys our lives and those around us. Let's face it; life can be overwhelming at times. When we stay rooted and grounded in Him, in His word, we can not only face it, we can overcome it. I read a good Christian fiction book where the main character talked about "devoting" herself every morning. I always called it "devotions" but her version is so much truer. We are saying, by that set aside time, "Father, I am devoted to you and I devote my day to you." What a great way to start each day.
David knew this.
Psalm 5:3 (NIV), "In the morning, LORD, you hear my voice; in the morning I lay my requests before you and wait expectantly."
So did Isaiah.
Isaiah 50:4b (ESV), "Morning by morning he awakens; he awakens my ear to hear as those who are taught."
Maybe your mornings are crazy busy. I guarantee you that if you just set your alarm for an extra fifteen minutes and devote that time to God, make it a habit, you'll wish you would have tried it earlier. For those of you like my children, who have little ones that get up between four am and five am, use their nap time as your set aside time. I used to nap with my little ones, however if I had known what a difference it would have made, I easily would have given up those power naps. I would have had more patience with my kids, I would have not felt so frazzled at the end of the day, and I am sure that my relationship with God would have been so much better than it is now.
I challenge you, put away that phone, turn off the computer, get up early, do whatever you have to do to give God a purposeful time during your day. It may feel like you are wasting time at first, especially when you have a million things to do, but trust me, it's will be the best used time of your day. I used to try and do it before bed, big mistake, I was so tired and stressed at the end of the day I either fell asleep or my mind jumped around like a ball in a pin ball machine. Those times now are reserved for some reflection and thanksgiving.
At one point in Martin Luther's life he was faced with a large day ahead, when he proceeded to begin his usual two hours of morning prayer time, an assistant said something like, "you are too busy to pray today," Martin's reply says it all. "I am too busy not too pray." He realized that He needed the strength and peace of God for his day.
Don't we all?
Psalm 143:8 (NASB), "Let me hear Your lovingkindness in the morning; For I trust in You; Teach me the way in which I should walk; For to You I lift up my soul."