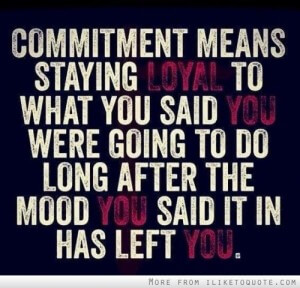 II Timothy 4:7-8 (NIV), "I have fought the good fight, I have finished the course, I have kept the faith; in the future there is laid up for me the crown of righteousness, which the Lord, the righteous Judge, will award to me on that day; and not only to me, but also to all who have loved His appearing."
Did you ever know someone who was great at getting involved, in starting new projects, enrolling in a college classes, setting goals, and making resolutions…but they weren't so great at finishing anything. I have, several in fact. I was brought up to finish what you started. You ate what you put on your plate, if you signed up for ball; you went to every practice, you stuck it out. In fact it was such a big thing, and I had very little self confidence, that I hardly ever committed to anything. If I knew I could do it, without a doubt, then I'd go for it. Thank God, I have found my confidence in Him. I'll give just about anything a try if it pleases Him. If I mess it up, it won't be from lack of effort. So, you'd think I would have a lot of "success" under my belt.
We have a real enemy that tries to get us off the track. He will do anything to derail us, slow us down, or get us to even move backwards. That's who he is. He comes only to steal, kill, and destroy. (John 10:10). He doesn't have a single other agenda. To put it simply his job is to get us to quit, back down, or give up. You can't get him to stop attacking. That happens when we get to heaven, and he gets to hell. Don't lose heart though, you can repel, and counter attack anything and everything he throws your way…if you have surrendered your life to the One who is all powerful. God has given us weapons, and protective gear. He has warned us of the wiles of the Devil, and placed before us simple instructions on how to overcome. Jesus already did, He defeated the devil over 2000 years ago. We just carry on in that knowledge. We battle a defeated foe, a lion who can only make noise because his teeth have been pulled.
So why does it feel like we have gotten our ears boxed? Or maybe you have been in the same battle for years, and you haven't even given much thought to the war. What's the problem?
Honestly there could be various reasons, but today I am going to talk about one of those reasons. Take a look at something our Senior Pastor said while preaching a series about "Changing Your Perception."
"The enemy attacks, that's who he is, but when he consistently gets the upper hand it is because our perception is wrong." Dr. William Hohman
Since you didn't hear the message, I'll clue you in on the concept.
When we know, not with our head, but in our heart, truly know, who God is we have unlimited power at our disposal. Think of it in this way, if you know God is your healer, you believe with all of your heart that Jesus' stripes purchased your healing, you will stand firm against every bodily attack. You won't be fighting the sickness, you will be fighting the fight of faith, the fight to remain true and committed to God and His word. Look at Job, Satan had permission to wreck havoc on Job's life, yet Job didn't "curse God and die" as his loving wife recommended, no, he kept his faith. Sure it wavered a little, we are human, but he never gave up on God. He stayed committed to the One who was able to bring him through.
When we know that our Father is the King, we can walk in our authority as princes and princesses. We command those who are subject to us (which according to the word is pretty much anything that is in the way of us fulfilling our destiny in God.) The key is to know who He is, know who we are, and submit to the King. When we know what His plan is, we can walk on the right path, recognize the obstacles, and command them to move.
We have to be committed. We have to "set our faces like flint", "quite like men", "run the race with patience", and "stand firm". It's only when we do those things that we will receive the promises.
Hebrews 10:36 (NIV), "You need to persevere so that when you have done the will of God, you will receive what he has promised."
Romans 12:11-12 (Aramaic Bible in Plain English), "Be diligent and do not be lazy; be enthusiastic in spirit; be working for your Lord. Be rejoicing in your hope. Bear your afflictions bravely. Be persistent in prayer.
Ephesians 6:13 (NLT), "Therefore, put on every piece of God's armor so you will be able to resist the enemy in the time of evil. Then after the battle you will still be standing firm."
Have you mastered the art of quitting, well quit it! Press on to master the art of loyalty and commitment. He is worthy of our commitment! We won't be the only ones who will benefit from our perseverance. When we fulfill the call God has placed in our lives, when we use the gifts and talents He gave us, so many people are blessed. Lives are changed! The Kingdom is built!

Are you committed?