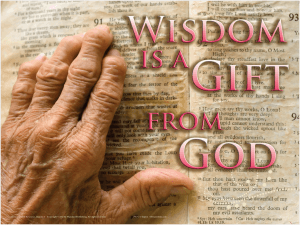 James 3:17 (NIV), "But the wisdom that comes from heaven is first of all pure; then peace-loving, considerate, submissive, full of mercy and good fruit, impartial and sincere."
The world has a totally different idea of wisdom than God. The world see's wisdom as intelligence and knowledge. In fact the Encarta Dictionary uses these definitions: good sense, wise decision, accumulated learning, opinion widely held, ancient teachings or sayings. I can right away see problems with all of those definitions! Good sense, we all need some of this, but if it isn't based on the Bible, it isn't good. The same can be said for a wise decision, if a decision is based on the world's view of what is wise, the motivation will be greed, or lust, or it will be based on flawed thinking. The Bible tells us that knowledge puffs up, or gives us a "big head" so accumulated learning will only fill our heads with knowledge that we won't be able to apply to our lives in any meaningful way. Even knowledge of the Scriptures without Godly wisdom will not profit us. Any opinion widely held is changeable. For example at one time people thought that eating the potato would kill you, and that the world was flat, need I say more? Lastly, ancient teachings can be wise, if they line up with God's word, otherwise they are still opinions of man that happened to be spouted off years ago.
God tells us that wisdom from heaven is first of all pure. Godly wisdom isn't motivated by anything other than love. Next, from our verse in James, we see that it is peace-loving and considerate. This kind of wisdom isn't putting "self" first. It doesn't have to have its own way, or demand its rights. It thinks "more highly on the things of others." Wisdom from Heaven is submissive. I know we Americans tend to hate that word, but only because we don't understand what it means. Submission simply means being "under a mission." I am under the mission of God. His mission is to bring everyone to the saving knowledge of His grace. I submit to that mission. If we are using Godly wisdom there will be fruit, we will show mercy to others. God is merciful. He never gave us what we deserved, but only what would bring us to a place of fellowship with Him. Finally, this kind of wisdom is impartial and sincere. It can't be faked. The world is full of people who see themselves as wise. They spout off information, statistics, and opinions and expect us all to be wowed by their greatness, which is neither impartial nor sincere. You can't fake Godly wisdom, ever. Godly wisdom's purpose isn't to impress anyone. It's purpose is to further God's Kingdom here on earth.
How do we do that?
By showing God's love, His goodness, His mercy, and forgiveness. We "make peace."

Matthew 5:9 (ISV), "How blessed are those who make peace, because it is they who will be called God's children!"
Luke 6:35-36 (NIV), "But love your enemies, do good to them, and lend to them without expecting to get anything back. Then your reward will be great, and you will be children of the Most High, because he is kind to the ungrateful and wicked. Be merciful, just as your Father is merciful. "
So, maybe you aren't feeling too wise right at this moment. Thankfully, God has an answer for that as well.
James 1:5 (NIV), "If any of you lacks wisdom, you should ask God, who gives generously to all without finding fault, and it will be given to you."
Proverbs 2:6 (KJB), "For the LORD giveth wisdom: out of his mouth cometh knowledge and understanding."
Ecclesiastes 2:26 (Holman Christian Standard Bible), "For to the man who is pleasing in His sight, He gives wisdom, knowledge, and joy, but to the sinner He gives the task of gathering and accumulating in order to give to the one who is pleasing in God's sight. This too is futile and a pursuit of the wind."
I think it is safe to say that the way the world thinks to acquire wisdom is through learning, and through osmosis. We, on the other hand, as Children of the Almighty, receive wisdom from God. It is a gift. We can't earn it, but that doesn't mean that we just sit and wait for God to deposit wisdom into us either. God always has a part for us to play. One of the ways that God imparts wisdom into us is through His word. A great place to obtain Godly wisdom is in the Proverbs. He also uses sound teaching. We need to know God's word and how to apply it to our own lives. This is wisdom.
Why do we need wisdom? And what do we do with it?
Proverbs 11:30 (KJB), "The fruit of the righteous is a tree of life; and he that winneth souls is wise."
Daniel 12:3 (NIV), "Those who are wise will shine like the brightness of the heavens, and those who lead many to righteousness, like the stars forever and ever."
Proverbs 3:35 (NIV), "The wise inherit honor, but fools get only shame."
It takes true wisdom just to get saved. Human wisdom won't allow our hearts to accept salvation, it stops the whole message at our head and because it simply doesn't make any human sense, we reject it as impossible. "God would die for me? No way! I don't have to earn it, there has got to be something wrong with this way."
I Corinthians 1:21 (NLT), "Since God in his wisdom saw to it that the world would never know him through human wisdom, he has used our foolish preaching to save those who believe."
Godly wisdom loves, it saves souls, inherits honor, shines like the brightness of heaven.
So, get wisdom! It's important, but make sure it is the wisdom from Heaven.
Proverbs 4:5 (NASB), "Acquire wisdom! Acquire understanding! Do not forget nor turn away from the words of my mouth."