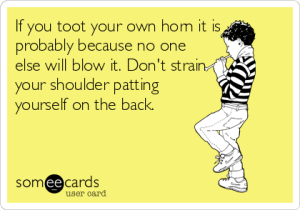 Proverbs 16:18 (Holman Christian Standard Bible), "Pride comes before destruction, and an arrogant spirit before a fall."
We all love accolades. It's part of our society. It is nice to receive honor, and the Bible clearly tells us to give honor where honor is due. However, we are never the best person to judge whether we should be honored. We are biased to say the least. We will either think we deserve nothing, or worse yet we think we deserve the most. Growing up there was a pretty common saying, "Don't toot your own horn." It was a reminder to not brag on yourself.
Most of us ignore a braggart. We shy away from those arrogant, know-it-all types. We don't want them on our team. They simply aren't good team players. How about at Church, those shooting stars that give glowing reports of all their good deeds? The common denominator in all of their "testimonies" isn't the goodness of God, it's their so-called spirituality. They begin their sentences with "I", not "God". In trying to honor themselves they end up looking fake-y and flaky. Those types of people have very little true impact on the Body of Christ, unless it is in a negative way. Any motivation other than love doesn't accomplish anything for the Kingdom. Self aggrandizement isn't a fruit of the Spirit, and Proverbs 16 clearly tells us that pride comes before a fall. That doesn't sound like honor.
Luke 14:11 (NASB), "For everyone who exalts himself will be humbled, and he who humbles himself will be exalted."
Even Jesus said that if He bore witness of Himself that His witness wouldn't be true. He let His works speak for themselves.
John 5:31, 36 (NIV), "If I bear witness of myself, my witness is not true… I have testimony weightier than that of John. For the works that the Father has given me to finish–the very works that I am doing–testify that the Father has sent me."
We don't have to tell everyone all the "good things" we do. Just do it! If you have a true testimony of what God did share it, but those testimonies never include "God used me to bless so and so." I am sorry if this steps on some toes, but that isn't a true testimony. Why not just testify, "so and so had a need and God met that need." No need to bring ourselves into the picture at all. This glorifies the One who deserves it. We can't love the praise of men. It keeps us from serving God rightly.
John 12:43 (NLT), "For they loved human praise more than the praise of God."
Myself, I want to hear Him say, "well done," not another person who is just like me.
John 7:18 (NET Bible), "The person who speaks on his own authority desires to receive honor for himself; the one who desires the honor of the one who sent him is a man of integrity, and there is no unrighteousness in him."
Been "tooting your own horn"? Check your heart.
Let love motivate you, and give all praise to God.