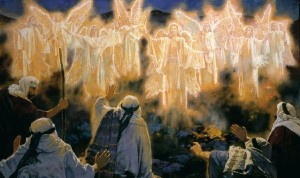 Luke 2:8-15 (AKJ), "And there were in the same country shepherds abiding in the field, keeping watch over their flock by night. And, see, the angel of the Lord came on them, and the glory of the Lord shone round about them: and they were sore afraid. And the angel said to them, Fear not: for, behold, I bring you good tidings of great joy, which shall be to all people. For to you is born this day in the city of David a Savior, which is Christ the Lord. And this shall be a sign to you; You shall find the babe wrapped in swaddling clothes, lying in a manger. And suddenly there was with the angel a multitude of the heavenly host praising God, and saying, Glory to God in the highest, and on earth peace, good will toward men."
I think that is good news don't you? God's message that night? "Peace on earth and good will towards man." Aren't you glad is wasn't "Chaos and trouble on earth and I sure am angry with men."
He had reason to be irritated with His creation. He could have left us to our own wicked devices and allowed the world to "go to Hell in a hand basket." However, His message that night wasn't that we get what we deserved, no! It was "I love you."
Sure He knew how wicked man had become, that's why He made a way, from before the foundation of the worlds, to show us Ultimate Love. God hanging on a tree. His love poured out to us, just like the blood that flowed from His broken body.
With God, we may reap what we sow, but we don't get what we deserve. I deserved Hell, how about you? But, I won't see it! Nope, the closest thing to Hell I will ever experience was my life without Him, before I surrendered my heart to His love. That was bad enough.
Now that we know this "good news" and have experienced it first hand- go and tell someone else!
Isaiah 52:7 (NIV), "How beautiful on the mountains are the feet of those who bring good news, who proclaim peace, who bring good tidings, who proclaim salvation, who say to Zion, "Your God reigns!"