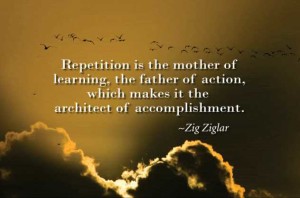 Philippians 4:9 (NIV), " Whatever you have learned or received or heard from me, or seen in me–put it into practice. And the God of peace will be with you."
I don't know about you, but there wasn't much I excelled at the first time I gave it a go. There are many things I am good at and some things I showed a natural talent or aptitude for right away, however to really be excellent at something it takes tons of practice. I have always had a bit of an artistic eye, but I am no great artist. My artistic talents are in the flavor of home decorating, sewing, crocheting, and the like. Even those things took practice. The house I live in now is the thirteenth one we remodeled and that I decorated. It's my favorite so far. The crocheted items I make now are many levels above the twisted, snagged first attempts.
As an example, let's look at my reading and writing skills. I struggled with reading the first few years of school and didn't understand that a letter made one sound this time, but another the next. In fourth grade I almost flunked English because I was doing so badly with the whole subject. My saving grace? I loved to read! I loved the stories and used them to escape real life quite frequently. By fifth grade I was getting A's in English and reading at a college level. That's also about the same year I started to write. In high school I had a teacher who honestly critiqued my writing, and though I shed a few tears over the remarks written in red at the bottom of the page, it helped me to become the writer that I am today. Now, as I read over my very first full length novel I wrote, I can't help but cringe in a few places…thankfully I am still "practicing".
It's the same way in our walk with God. When we get saved, we don't suddenly and miraculously know how to walk this walk perfectly. God knew we needed to work out some things, so He, in His perfect wisdom, allows us to do the work. We practice being like Him. We step out in faith and practice being patient and waiting in hope for the answer. Sometime we are slow learners, like I was in my early English classes. Thankfully, I never gave up! We can't do that in our Christian walk. Stepping off the path only prevents us from getting to the finish line. Though I am not there yet in my writing, I am on my way. It's the same with this road that I have chosen to walk with the Lord, I know that the finish line is ahead, so I keep going. Sometimes I stumble and often I fall, but I get back up. Even those times when I don't have the strength to get up one more time, He is there to lift me, if I let Him. I have to acknowledge that I have fallen, or even worse, that I have wandered off the path, and then ask His Spirit to lead and guide me, to empower me to stay on track. He's never told me "no" or let me down in any way. He is so Faithful!
How do we practice this way of life? Know who He is. I know I repeat this quite often only because it is so important. Then read the Bible. If you are having trouble with the language, try another version, one isn't more inspiring than another. If the Old Testament seems dry, or you are getting the picture that God is a hard taskmaster, jump ahead to the New Testament. We have to remember that the Old Testament was written for people living under the Law, and the New to people living under Grace. He is the same God, but dealt with people in a different way. Once you truly know Him, reading the Old Testament still shows you His unfailing love and patience with a stiff necked, stubborn people.
We also have to be rooted in a family, a Church that love God and knows His word. Submit to godly men and women of God as a covering over us. Fellowship and break bread together (hang out and eat together). Get to know one another and share personal experiences, be real! Don't put on a fake "church face" and act all holier than thou. Just be yourself, the good the bad and ugly. When you are in a real family, we very rarely shock one another, and quite often encourage and correct each other. Good advice comes from people who are genuine and who really love you despite your flaws, just like Jesus.
Confess God's word over your life, even if it feels weird at first. Tell Satan to take a hike and to get his hands off of your family, stuff, and your life. Don't give up if he sticks around for a while, though he doesn't have the patience of God, he has more than you. Be consistent and insistent! The same power that raised Jesus from the dead now lives in you. You aren't subject to the devil; he is subject to the name of Jesus. Use it.
One very important thing to remember, if you blow it, and make a mess, don't give up! Never throw in the towel, the fight isn't over until God calls you home. Remember each day is brand new, His mercies are new every morning. Ask God to forgive you, and move on. We are all on a path, not on a treadmill. There is an end, there is a finish line with prizes and rewards. Keep moving forward. Man up! Never get stuck in a pity party, never stop to "take a break", get up go to Church, every time they open the doors go. So what if they aren't preaching or teaching that day, go for the fun stuff too. Support the outreaches, fundraisers, women's bible study, men's prayer, etc. On the other hand don't just go for the fun, and never let the sound teaching and anointed preaching change your hearts. Invite others over to your house and have fun! Just because you may be embarrassed over a mistake or a setback, don't think that you are the only one to ever have to face that humility. We all do, more than once. That's why it is so important to be real and go to Church with people you can trust and who will correct you if needed, but love you anyway.
Want to be just like Jesus?
Practice, practice, practice!
I John 3:1-10 (NASB), " See what kind of love the Father has given to us, that we should be called children of God; and so we are. The reason why the world does not know us is that it did not know him. Beloved, we are God's children now, and what we will be has not yet appeared; but we know that when he appears we shall be like him , because we shall see him as he is. And everyone who thus hopes in him purifies himself as he is pure. Everyone who makes a practice of sinning also practices lawlessness; sin is lawlessness. You know that he appeared in order to take away sins, and in him there is no sin. No one who abides in him keeps on sinning; no one who keeps on sinning has either seen him or known him. Little children, let no one deceive you. Whoever practices righteousness is righteous, as he is righteous. Whoever makes a practice of sinning is of the devil, for the devil has been sinning from the beginning. The reason the Son of God appeared was to destroy the works of the devil. No one born of God makes a practice of sinning, for God's seed abides in him, and he cannot keep on sinning because he has been born of God. By this it is evident who are the children of God, and who are the children of the devil: whoever does not practice righteousness is not of God, nor is the one who does not love his brother." (Emphasis mine)