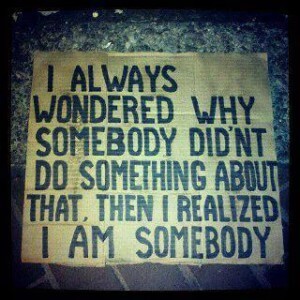 "We make a living by what we get; we make a life by what we give." ~ Winston Churchill
We are blessed in America. Even our poorest are better off than people who live in third world countries. Sometimes it seems overwhelming. We live in our safe houses, in safe communities, and drive our safe cars. So sometimes we forget about "them" and only think about "us." Then on the flip side, we know that there are evils in the world, human trafficking, drug abuse, child abuse, all types of sexual perversity, and things better left unsaid. When we think about those things, happening even right here in America, we can go into ostrich mode and want to bury our heads in the sand and pretend it doesn't exist. Sometimes just thinking about all of those hurting people, and all of those who have been doing the hurting, can just seem too overwhelming, especially as a Christian. We sympathize with some and want to judge others, but we aren't sure what we can do about it.
There are some great organizations out there that try to stop the bleeding. There are even more Churches that reach out all over the world to help others. I am proud to say I belong to one of them. In the face of the numbers it can seem a pretty pathetic attempt at saving the world. But, I am reminded of a story about the Good Shepherd. He left the whole flock to go and seek that one little lost sheep.
Matthew 18:12 (NLT), "If a man has a hundred sheep and one of them wanders away, what will he do? Won't he leave the ninety-nine others on the hills and go out to search for the one that is lost?"
We need to change the way we think about changing the world. As Christians isn't that our job? To bring Heaven to earth and show the world how much God loves them? We may not be able to save a whole nation, or even a small community, but we can help a family, or a single person. God lays things on the hearts of His people. Maybe at some point you had a driving urge to give to someone in need, or your heart was torn over the story of a young girl sold into sexual slavery. What did you do about it? Sometimes the only thing we can do is pray, and sometimes we can give some finances. However, if there is something we can do personally, we should do more than "throw some money at it." Maybe you can't spend a fortune, or have unlimited time, but I firmly believe that if you pray and seek God, He will show you how you can help.
Let's face it; the world seems to be going to hell in a hand basket. We need to step up to the plate and do what God has commissioned us to do. Time is short, don't put off until tomorrow what you can do today. Feel like tackling a bigger project? Talk to your family, or your neighbors, your Church family and make a plan. For some of us it is something big. I have read about people quitting their lucrative jobs to go out and feed the hungry, some who sold everything to live in a motor home and travel helping wherever they could. Maybe your part is to keep that great job and fund those who can and want to go out on the streets. We all need to do our part.
God's love turns people to repentance, it changes hearts and lives. How many people need to know that? A great open door is by helping in some way, big or small. Hearts are softened when someone cares. It's easier to talk about spiritual needs when physical needs are met. Have you ever tried to talk to a hungry child right before lunch? As a teacher that was one of the hardest times to hold their attention. What if they hadn't eaten all day, or for were constantly hungry? How can we tell a homeless person that God loves them, that we love them, when we can't offer a crust of bread or a warm blanket?
It's can be easy, once we set our mind to help, to do so for the poor. It's harder to make a difference in a convict's life, a drug addict, or a greedy man who's wealth is his god.
If we can stop judging others, see them as God does and allow ourselves to be led by His Spirit, even those, who God loves too, can be reached. We are called to live in the Spirit. If we really do this, we will be compelled to make a difference. You will be amazed at the ideas of how and when.
Romans 8:5 (ESV), "For those who live according to the flesh set their minds on the things of the flesh, but those who live according to the Spirit set their minds on the things of the Spirit."
There is no such thing as making a "small difference". If you have helped one person in even the seemingly most insignificant way, God will bless that.
Acts 9:36 (NASB), "Now in Joppa there was a disciple named Tabitha (which translated in Greek is called Dorcas); this woman was abounding with deeds of kindness and charity which she continually did."
Tabitha is still remembered today, yes partly because she was raised from the dead, but also because she took her faith and put it to action. She sewed clothes for the widows and orphans. You may think, "I don't have the money or the time, but God is the one who gives us the seed to sow and the seed to eat. He provides for us and gives us enough (time, money, energy, materials, etc) to give to others!
II Corinthians 9:6-15 (NIV), "Remember this: Whoever sows sparingly will also reap sparingly, and whoever sows generously will also reap generously. Each of you should give what you have decided in your heart to give, not reluctantly or under compulsion, for God loves a cheerful giver. And God is able to bless you abundantly, so that in all things at all times, having all that you need, you will abound in every good work. As it is written: "They have freely scattered their gifts to the poor; their righteousness endures forever." Now he who supplies seed to the sower and bread for food will also supply and increase your store of seed and will enlarge the harvest of your righteousness. You will be enriched in every way so that you can be generous on every occasion, and through us your generosity will result in thanksgiving to God. This service that you perform is not only supplying the needs of the Lord's people but is also overflowing in many expressions of thanks to God. Because of the service by which you have proved yourselves, others will praise God for the obedience that accompanies your confession of the gospel of Christ, and for your generosity in sharing with them and with everyone else. And in their prayers for you their hearts will go out to you, because of the surpassing grace God has given you. Thanks be to God for his indescribable gift!"
We just need to step out in faith. Some may not want our help, others will accept it and then be ungrateful, but there will be those whose hearts are changed and their lives will reflect it. Some will be inspired and will even go on to help others. It's called "paying it forward."
Make a difference in someone's life today. You can start by smiling, and being friendly, and then move on to bigger things. Don't despise small beginnings, and never let your failures (yep, there will be a few) stop you from doing what you know you should.
God bless you!