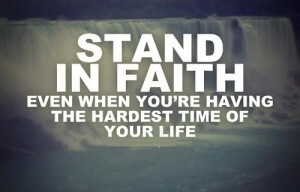 Judges 6:11-16 (NIV), "The angel of the Lord came and sat down under the oak in Ophrah that belonged to Joash the Abiezrite, where his son Gideon was threshing wheat in a winepress to keep it from the Midianites. When the angel of the Lord appeared to Gideon, he said, "The Lord is with you, mighty warrior." "Pardon me, my lord," Gideon replied, "but if the Lord is with us, why has all this happened to us? Where are all his wonders that our ancestors told us about when they said, 'Did not the Lord bring us up out of Egypt?' But now the Lord has abandoned us and given us into the hand of Midian." The Lord turned to him and said, "Go in the strength you have and save Israel out of Midian's hand. Am I not sending you?" "Pardon me, my lord," Gideon replied, "but how can I save Israel? My clan is the weakest in Manasseh, and I am the least in my family." The Lord answered, "I will be with you, and you will strike down all the Midianites, leaving none alive."
Gideon had a faith problem. He had no faith in himself, or in the fact that God could use him. Even though an Angel came to him, he still wanted some proof. Notice through the whole group of scriptures about Gideon God continues to call him a "Warrior." God knew who Gideon was; the problem was that Gideon just couldn't see it. He lists his lowly ancestry as one of the reasons he doubted, and the fact that the Lord had seemingly abandoned them. Gideon was looking in the natural at the natural. God sent an angel to show him the supernatural. Humbly, this mighty "warrior" asks for a sign. Patiently, God provided more than one. Isn't God good? Bear in mind that this was before Jesus came to redeem us, we now have the Holy Spirit to lead us, so asking for a fleece instead of asking the Holy Spirit for conformation was reasonable for Gideon.
How do we fix a faith issue?
God tells us that we have all been given the "measure of faith," and that faith comes by hearing His word. If you know me at all, you know that I encourage everyone to read their Bible. It is not a coffee table decoration or one for the back windshield of your car either. It won't do you a bit of good under your bed, or in your closet. If you are in the habit of leaving it at Church so that you don't forget it on Sunday, buy another one! Then, when you read it, read it out loud as much as possible. I learned a few things in school that I applied as a teacher. If we hear something we remember 25% of the information. If we hear something and read it also, we retain 50% of that information. If we hear it, read it, and write it, we remember 75% of that information. Now I know that is very general, and that we all have different learning styles, but this has proven true for me and many of my students. So read your bible at home, then listen to sound teaching and preaching that backs itself up with scripture, while at Church, take notes. Even if they are sloppy and you will never read them again! It will help you retain what you are learning, and sometimes God speaks to your heart and you need to jot something down (while still paying attention to the message).
Gideon had an identity issue that led to a faith issue. If we are confident in who God is and how He sees us, our faith grows by leaps and bounds!
Another way our faith is strengthened is by going through some tough stuff. I know, it's the school of hard knocks and every one of us wants to "play hooky" that day and skip class. The key is to go through. Don't set up camp, don't stop to have a pity party, and don't pause to whine and complain. Allow God's Holy Spirit to lead you out. There is always light at the end of the tunnel when you serve God. Always. We grow from faith to faith this way, if we allow our hearts to be humble and teachable. The next time we are faced with a similar situation, our knees wont knock as much, and our hearts will not do that Irish jig. We will be able to calmly say, "this too shall pass."
Gideon did find some courage; he obeyed God and against all odds, including being vastly outnumbered by the enemy, won the victory.
He will do the same for you.
I Peter 2:9 (KJB), "But ye are a chosen generation, a royal priesthood, an holy nation, a peculiar people; that ye should shew forth the praises of him who hath called you out of darkness into his marvellous light:"