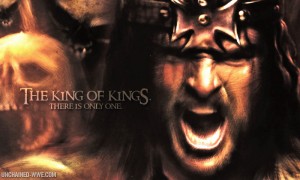 Philippians 2:9-11 (NIV), "Therefore God exalted him to the highest place and gave him the name that is above every name, that at the name of Jesus every knee should bow, in heaven and on earth and under the earth, and every tongue acknowledge that Jesus Christ is Lord, to the glory of God the Father."
Romans 14:11 (International Standard Version), "For it is written, "As certainly as I live, declares the Lord, every knee will bow to me, and every tongue will praise God.""
Isaiah 45:23 (NIV), "By myself I have sworn, my mouth has uttered in all integrity a word that will not be revoked: Before me every knee will bow; by me every tongue will swear."
In case you haven't figured it out yet, God will be praised, by every tongue, saved or unsaved, angels and demons, humans and animals, all will praise Him.
Jesus is King of Kings. Nothing we can do or think, say or do can change that. However just like everything else in our lives we have a choice, not if we will name Him as Lord and King, but when. We can submit to Him as King now, or we can be forced to bend the knee later. It's totally up to us.
I love reading books on Arthurian legend. One of the reasons is because of the depiction of Arthur as "High King". I am in fact reading the best version yet, by Stephen R. Lawhead. This one is my favorite due to the fact that Arthur and even Merlin are portrayed as followers of Jehu (Jesus). The story still has battles and those evil characters that try to manipulate, or strike terror in the people. Each of those wicked Lords or lesser kings all faced a choice, to submit to Arthur as High King and support the defense of their land, or be conquered in battle and be forced, literally to bow the knee and swear fealty to their king.
Such a good lesson for us, Jesus will be our King, by choice or by force.
You choose.
The good part is that Jesus is not a man like Arthur (if he was even real), with flaws and faults. Jesus is deity. He is God and He is good. You could never submit to anyone who would care for and love you more, or better. He always has your best interest at heart. Just like the kings of old, He went first into battle. He not only goes before you, He encompasses you.
Here is a passage taken from Lawhead's "Arthur" spoken over Arthur at his crowning:
"Jesu with him, before him, behind him;
Jesu in him, beneath him, above him;
Jesu on his right, Jesu on his left'
Jesu when he sleeps, Jesu when he wakes;
Jesu in the heart of everyone who thinks of him;
Jesu in the mouth of everyone who speak of him;
Jesu in the eye of everyone who sees him."
Let's truly make Him our King. Not just in word, but in deed, so that all who see us, think of us, or speaks of us will be glorifying God.
If you have confessed Him as Lord, let this be a reminder of what that really means. If you haven't think about what it would be like to have a loving King to go out for you in battle. One who has already won the victory and has all the spoils of war to give into your hands.
JESUS IS KING.
Revelation 5:13 (Douay-Rheims Bible), "And every creature, which is in heaven, and on the earth, and under the earth, and such as are in the sea, and all that are in them: I heard all saying: To him that sitteth on the throne, and to the Lamb, benediction, and honour, and glory, and power, for ever and ever."