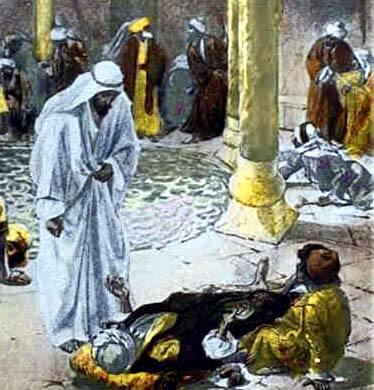 John 14:12-13 (NIV) "Very truly I tell you, whoever believes in me will do the works I have been doing, and they will do even greater things than these, because I am going to the Father. And I will do whatever you ask in my name, so that the Father may be glorified in the Son. You may ask me for anything in my name, and I will do it."
How many of us have read this verse and felt a little overwhelmed? Or we read about the things that people like Moses, David, Elijah and the twelve did, and wish we were just like them? We want to do something grand. We would love to have our shadow heal those who need it, to have a showdown like Elijah and the prophets of Baal. But deep in our hearts we may be begging God to just help us get through the day. I know I have been there. I have heard and said the words, (and most of us can admit that we at least have thought them at one time) "I'm not Jesus!" (or Elijah, or Paul, Etc).
So then why does God expect us, and Jesus tell us Himself, that we will do the works He did and even greater?
We have to start by looking at Jesus. He is the Son of God! No doubt about it. Deity. Period. However, when He came to legally get back everything that had been given to Satan, by Adam, He was fully man. Jesus didn't walk the earth after His human birth as God. The pre-incarnate Jesus, who came as the Angel of the Lord, that was Jesus in His heavenly body. But when He was here among us, He was just like us. If Jesus had come as anything other than a man, He wouldn't have been able to fulfill the law or to take our place in the consequences of our sin. Only a man could do that.
Just a few places that show His humanity:
His human birth (Luke 2).
Jesus got tired, and slept (John 4:6, Matthew 8:24).
He got sad and suffered agony (John 11:33-35, Luke 22:44).
He was tempted just like we are, in every area! (Hebrews 2:14-17, Mark 1:13).
There are many scriptures that talk about Jesus. It is so important that we really know Him! So then how did He do it? The healings, the miracles and how did he suffer the agony of the cross?
Matthew 12:28 (NIV) "But if it is by the Spirit of God that I drive out demons, then the kingdom of God has come upon you."
Jesus is pretty clear. He performed miracles by the Power of the Holy Spirit. Then He goes on to say in Luke 24:40 (NLT) "And now I will send the Holy Spirit, just as my Father promised. But stay here in the city until the Holy Spirit comes and fills you with power from heaven."
No more excuses. We can do what Jesus did!
That's how Peter, Paul and Elijah did it.
Romans 8:11 (NIV) "And if the Spirit of him who raised Jesus from the dead is living in you, he who raised Christ from the dead will also give life to your mortal bodies because of his Spirit who lives in you."
His shed blood on Calvary gave us back our health, our right standing with God, and our authority as Children of God. The power of the Holy Spirit gives us the power to witness and to do exactly what Jesus did. We have so many Spirit Filled believers what is hindering the miracles? Maybe the excuses and the wrong thinking.
No more say, "I can't" but "I can."