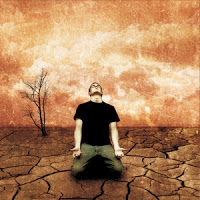 II Corinthians 12:6-9a "Even if I should choose to boast, I would not be a fool, because I would be speaking the truth. But I refrain, so no one will think more of me than is warranted by what I do or say, or because of these surpassingly great revelations. Therefore, in order to keep me from becoming conceited, I was given a thorn in my flesh, a messenger of Satan, to torment me. Three times I pleaded with the Lord to take it away from me. But he said to me, "My grace is sufficient for you, for my power is made perfect in weakness.""
Paul had a "thorn in the flesh." He describes this thorn as a "messenger of Satan" to keep him from thinking too highly of himself. I think we need to point out that the thorn was not from God. It wasn't something pleasant. It came from the enemy.
Paul asked God three times to take it away. God's answer was that His grace was sufficient and that His "power was made perfect in weakness." Paul goes on to say in the last part of verse 9 and all of verse 10, "Most gladly, therefore, I will rather boast about my weaknesses, that the power of Christ may dwell in me. Therefore I am well content with weaknesses, with insults, with distresses, with persecutions, with difficulties, for Christ's sake; for when I am weak, then I am strong."
Let's be clear about something, Paul is not saying we should go around bragging about all of our shortcomings, faults and issues. We don't glorify our problems. What he is saying is that when we allow God to use us, in His strength, we can boast or brag about His power and His ability to bring us through.
When we admit to ourselves, and to God, that we can't do it on our own, then allow Him to work in us and through us, He gets the Glory, not us.
So are you feeling weak today?
Let God strengthen you.
Be joyful! For the joy of the Lord is our strength!
Nehemiah 8:10 (KJV) "Then he said unto them, Go your way, eat the fat, and drink the sweet, and send portions unto them for whom nothing is prepared: for this day is holy unto our LORD: neither be ye sorry; for the joy of the LORD is your strength."