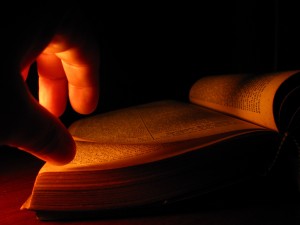 Matthew 24:35 (KJB), "Heaven and earth shall pass away, but my words shall not pass away."
I am so glad that I have the Written Word of God!
The more I read and study His word, the closer I get to Him, the more I find out about who He is and how He sees me. His word is a plum line for my life. If I hear any voice that doesn't line up with His word, I ignore it, or rebuke it.
A good Pastor or Teacher uses His word, without watering it down, or changing it. They do not leave out parts and skip over others, never taking it out of context to make a point that is their own doctrine and not the doctrine of the Lord.
His word is a lamp unto our feet and a light unto our path, (Psalm 119:105). It is sweet! (Psalm 119:103). His word is true and they stand forever, (Psalm 119:160).
One of the greatest aspects of His word is that it is settled in Heaven.
Psalm 119:89 (NAS), "Forever, O LORD, Your word is settled in heaven."
(NIV), "Your word, LORD, is eternal; it stands firm in the heavens."
(International Standard Version), "Your word is forever, LORD; it is firmly established in heaven."
(ESV), "Forever, O LORD, your word is firmly fixed in the heavens."
No matter what translation of the Bible you read Psalm 119:89, it just gets clearer and more concrete. God's word is fixed, stands firm, is firmly established, it is settled. Have you ever heard someone say, "That settles it!" What they mean is there is no more questioning, no more argument, no more reasoning, studying, putting up with something less. We can't argue with His word, can't change it, can't shift or shake it. The only thing we can do is ignore it, but it is still there. Ignore the mosquitoes and see how well that works for you.
For me, this is a promise of God that I can stand on. No matter what the circumstances, no matter the situation, His word is firmly established. That's why we can confidently stand on His word. That's why at His word things change! They have to.
Jesus told us to pray, "Thy will be done on earth, as it is in heaven."(Matthew 6:10)
Why? Because His word is His will. Nothing less than His will is done in Heaven. That's the plan for earth as well. However, we ignore, pollute, and poison His word. Some so called Christians even use it for harm instead of good. They use it to beat people up instead of building them up. They in fact cause people to turn from God, instead of run into His loving arms. What we should be doing is looking to His Kingdom, into heaven and asking ourselves, "What is allowed in heaven?" If it isn't allowed there, why would we ever allow it here? Stand on His word. Declare what He has to say.
It's settled!