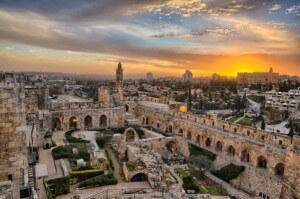 Zephaniah 3:9-17 (NIV), "Then I will purify the lips of the peoples, that all of them may call on the name of the Lord and serve him shoulder to shoulder. From beyond the rivers of Cush my worshipers, my scattered people, will bring me offerings. On that day you, Jerusalem, will not be put to shame for all the wrongs you have done to me, because I will remove from you your arrogant boasters. Never again will you be haughty on my holy hill. But I will leave within you the meek and humble. The remnant of Israel will trust in the name of the Lord. They will do no wrong; they will tell no lies. A deceitful tongue will not be found in their mouths. They will eat and lie down and no one will make them afraid." Sing, Daughter Zion; shout aloud, Israel! Be glad and rejoice with all your heart, Daughter Jerusalem! The Lord has taken away your punishment, he has turned back your enemy. The Lord, the King of Israel, is with you; never again will you fear any harm. On that day they will say to Jerusalem, "Do not fear, Zion; do not let your hands hang limp. The Lord your God is with you, the Mighty Warrior who saves. He will take great delight in you; in his love he will no longer rebuke you, but will rejoice over you with singing."

Even though God's chosen people have rebelled and turned away from Him over and over during the span of history, He has always kept a remnant, those few who loved Him and were faithful, or those who were lowly and not haughty. He did this for David's sake. He had promised Abraham, Isaac, Jacob, and David many things concerning His people and He always keeps His promises. He also did this for His names sake as well. He wants the world to know that He is good, that He is forgiving, and that, no matter what, He loves. He promises to gather them back together as a shepherd gathers His flock. Over the years, many times, it may have looked like God had totally forsaken Israel, but that was never the case. The plans and the purposes that He had for them never changed. His desire for them to be His children and to call Him "Father" always remained the same. He consistently sent deliverers until finally He sent His Son as the final deliverer. They will see Jesus for who He is and they will turn their hearts to the Father. Doesn't God promise that in His word?
Jeremiah 46:27 (KJB), "But fear not thou, O my servant Jacob, and be not dismayed, O Israel: for, behold, I will save thee from afar off, and thy seed from the land of their captivity; and Jacob shall return, and be in rest and at ease, and none shall make him afraid."
Jeremiah 23:3 (NIV), "I myself will gather the remnant of my flock out of all the countries where I have driven them and will bring them back to their pasture, where they will be fruitful and increase in number."
Isaiah 25:9 (NIV), "In that day they will say, "Surely this is our God; we trusted in him, and he saved us. This is the LORD, we trusted in him; let us rejoice and be glad in his salvation."
So what do we do as believers? We accept all God has for us, showing the Jews how good God is and what Jesus has done for us. We are to make them jealous enough that they seek after Him.
Romans 11:11 (NLT), "Did God's people stumble and fall beyond recovery? Of course not! They were disobedient, so God made salvation available to the Gentiles. But he wanted his own people to become jealous and claim it for themselves."
We also are supposed to be praying for them.
Psalm 122:6 (NASB), "Pray for the peace of Jerusalem: "May they prosper who love you."