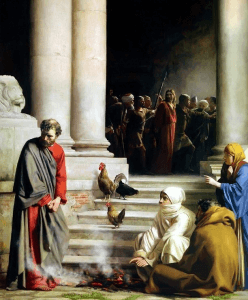 Psalm 38:20 (Holman Christian Standard Bible), "Those who repay evil for good attack me for pursuing good."
Psalm 109:5 (NIV), "They repay me evil for good, and hatred for my friendship."
Have you ever tried to help someone, it was even something laid on your heart by God, only to have it backfire? You poured out your love and in return they called your good evil, or repaid your good with evil? Maybe they slandered you, lied about the whole situation, tried to make you look bad? Maybe caused you some sleepless nights and some grief?
Join the club!
David is in this club. You can tell by some of the things he writes in Psalms. Some of his close friends and his very own family turned against him. They kicked him when he was down, shook their heads, and behaved as if they were ashamed of him. They lied about him. They returned his good for evil and his love for hate.
Jesus is in that club. He came to save God's chosen people, along with the rest of us. Only to have them shake their heads, mock Him, and to call Him a liar and a blasphemer. People accused Him of everything, they still do.
Isaiah 53:7 (KJB), "He was oppressed, and he was afflicted, yet he opened not his mouth: he is brought as a lamb to the slaughter, and as a sheep before her shearers is dumb, so he openeth not his mouth."
1 Peter 2:23 (NIV), "When they hurled their insults at him, he did not retaliate; when he suffered, he made no threats. Instead, he entrusted himself to him who judges justly."
I am a member of this club. I've paid my dues. Not on the scale of David or Jesus, but it didn't hurt any less. I have had evil repaid me for the good I have done. I taught school for thirteen years. It happens in the classroom all the time. Students lie about their teachers to cover their cheating, poor work effort, etc. In almost every instance their smart parents brought it up during parent teacher conferences, and the students were found out. However, that didn't take the sting out of what they said. Some of the parents spread the lies and chose to believe their children. Those students ended up leaving our school and things didn't turn out so well. The others, fessed up, and still treat me with love and respect when they see me. I have had people live in my home, family members, abused wives, abandoned teenagers, and foster kids. Most of them left with attitudes and slandered me and my husband. The few who accepted our love and our wisdom still stop by, they call, and they come for holidays. One is officially part of our family now. As an elder in the body of Christ, I have people talk bad about me. Sometimes they misunderstood something; sometimes they are just trying to take the heat off of themselves. It happens.
We can't stop helping others. For my husband and I, after several not so good experiences with sharing our home, we decided we were done. Then a visiting prophet spoke over us that we were going to open our home up to those who needed love and help. My husband was going to love them unconditionally, he is good at that, and I was going to impart wisdom and tell them what they needed to do to get their lives right. Needless to say, we weren't thrilled with that word! I can laugh about it now, but it wasn't funny at the time. We had just come out of an ugly situation where we had to have a sit down with about three families and our Senior Pastor due to the lies that had been spread about us. But God knows who and when we need to help. So we trusted Him. I now have a family member in our home. My husband does the love thing, and I am doing the accountability thing. So far this is looking like a good outcome.
David didn't stop helping. He asked God for help. He resorted to prayer. He continually put his hope and his trust in God.
Psalms 109:1-4 (AMP), "O God of my praise! Keep not silence, For the mouths of the wicked and the mouth of deceit are opened against me; they have spoken to me and against me with lying tongues. They have compassed me about also with words of hatred and have fought against me without a cause. In return for my love they are my adversaries, but I resort to prayer."
We can't hold it against them, no grudges. We have to forgive and love them. Keep them in our prayers. Jesus forgave.
Luke 23:24 (NAS), "But Jesus was saying, "Father, forgive them; for they do not know what they are doing." And they cast lots, dividing up His garments among themselves."
Doing anything less gives Satan the upper hand. He is the one who tries to bring division in the Church and in families. We have to do what we know we are supposed to and know that God preserves those who fear Him, those who trust Him. He preserved David and his household, all the way through until His own Son, Jesus, sat on the throne of David forever.
Do we live as doormats and allow people to walk all over us? No. Jesus didn't rail against the people or even open His mouth to defend Himself at His trial. That is true. But we cannot allow division in the Church, (Satan's divide and conquer technique) and as a teacher I couldn't allow disrespect in the classroom. Those things weren't Kingdome building behaviors. I called every one of them on the lies. I went through proper channels, parents with the students, pastors with the adults. Most of the time dealing with it directly brings repentance and forgiveness, which is a wonderful way to restore relationships. It keeps unity. The Apostle Paul had to deal with some bad behavior. It's part of being a family. I am pretty confident that every Pastor, teacher or anyone who has opened up their home to help others has or will get burned. It's human nature. But we now have God's nature and we need to rise above that kind of thing. We are warned by Paul to not give up.
Galatians 6:9 (KJB), "And let us not be weary in well doing: for in due season we shall reap, if we faint not."
Love people. Help them. Be quick to forgive and slow to anger. Don't hold a grudge, ever. Live like Jesus. Open your heart and if God calls you to, your home, and He'll take care of the rest.
Romans 12:18 (Holman Christian Standard Bible), "If possible, on your part, live at peace with everyone."