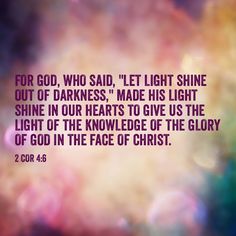 Psalm 125:1 (NIV), "Those who trust in the LORD are like Mount Zion, which cannot be shaken but endures forever."
All of us who follow Christ and have surrendered our lives to Him are now the spiritual Mount Zion. We cannot be shaken, we endure forever. We are God's house, His home. Our job is to shine. Our destiny is to carry His glory, to be like Moses who had to veil his face because the people couldn't handle his glow. We are predestined, chosen before we were born, and designed for his glory.
Romans 8:28-29 (NIV), "And we know that in all things God works for the good of those who love him, who have been called according to his purpose. For those God foreknew he also predestined to be conformed to the image of his Son, that he might be the firstborn among many brothers and sisters. And those he predestined, he also called; those he called, he also justified; those he justified, he also glorified." (Emphasis mine)
Think about that. The One who made us designed us to hold His glory.
We are being conformed into His image. The closer we get to looking just like Him, the more of His glory will be revealed in us and on us. We are vessels that have to go through the process of firing so that we are strong enough to hold His glory. The Father's intention is to present us as a bride to Christ. A bride that is without spot or wrinkle, one that is holy and blameless, a glorified Church.
Ephesians 5:25b-27 (NASB), "Husbands, love your wives, just as Christ also loved the church and gave Himself up for her, so that He might sanctify her, having cleansed her by the washing of water with the word, that He might present to Himself the church in all her glory, having no spot or wrinkle or any such thing; but that she would be holy and blameless." (Emphasis mine)
II Thessalonians 1:10-12 (KJB), "When he shall come to be glorified in his saints, and to be admired in all them that believe (because our testimony among you was believed) in that day. Wherefore also we pray always for you, that our God would count you worthy of this calling, and fulfill all the good pleasure of his goodness, and the work of faith with power: That the name of our Lord Jesus Christ may be glorified in you, and ye in him, according to the grace of our God and the Lord Jesus Christ." (Emphasis mine)
Each designer has a purpose in mind when they design something; sometimes it is just to look good. However, if you have ever purchased a pair of shoes that looked great, but were so uncomfortable you had to give your feet a pep talk before they would agree to wear them, you know that looks aren't everything. God didn't design us to shine just so we would look good! He wants us to lead people to Him. A light house shining in the darkest storm, the flood lights that light up that stage, the soft glow of a candle that brings hope and light in the darkest night. That's us. Or it should be.
Ephesians 2:10 (TLB), "For we are God's masterpiece. He has created us anew in Christ Jesus, so we can do the good things he planned for us long ago."
Accepting His love for us is the beginning, then once we are truly motivated by a real love, not just a mindset to love, but genuine passion for Him, then we can do good works that stand. Those works won't be worthless, sounding brass, or a banging cymbal (I Cor 13:1). What does a light house look like to those in darkness? A place where they can come in and be judged? A place where they feel threatened and forced to conform to a set of behaviors and standards? How about a place that is just like the darkness they want out of? No! A light house is a place of safety, a safe haven in the midst of the storm. The church is a family, one that is so full of love they just can't contain it! It is shed abroad in their hearts by the Holy Spirit and just flows out of them, especially to those who are hurting and lost.
We aren't sent to condemn or judge. We are not called to follow the law, we are called to love, we are sent out to Shine!
I challenge you to search out scriptures about Mount Zion. Then meditate on them. Stir them around in your heart and keep in mind that us believers are spiritual Zion. Good things come from there, people meet God there!
Isaiah 60:1-7 (ESV), "Arise, shine, for your light has come, and the glory of the Lord has risen upon you. For behold, darkness shall cover the earth, and thick darkness the peoples; but the Lord will arise upon you, and his glory will be seen upon you. And nations shall come to your light, and kings to the brightness of your rising. Lift up your eyes all around, and see; they all gather together, they come to you; your sons shall come from afar, and your daughters shall be carried on the hip. Then you shall see and be radiant; your heart shall thrill and exult, because the abundance of the sea shall be turned to you, the wealth of the nations shall come to you. A multitude of camels shall cover you, the young camels of Midian and Ephah; all those from Sheba shall come. They shall bring gold and frankincense, and shall bring good news, the praises of the Lord. All the flocks of Kedar shall be gathered to you; the rams of Nebaioth shall minister to you; they shall come up with acceptance on my altar, and I will beautify my beautiful house."