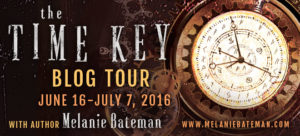 About the book:
A simple act of kindness hands Stanley the ability to time travel. But to fully understand this power, he needs to find a mystical seer a hundred years in the future!
My Review: I loved this book. It was a touching story of one mans search for redemption. The characters are fleshed out and the story is well written. There is the whole time traveling aspect, as well as some characters from other dimensions, some are sweet and others are not. I give it five stars. There is no swearing or sexual content, there is some mild violence. Suited for teens and up. I will be looking for more from this author. I was given a copy of this book in exchange for an honest review.
About the Author:
Melanie Bateman was born in Caracas, Venezuela, and moved to the United States at age nine. She has an associate's degree in fine art from Utah Valley University, emphasizing in illustration. From a very young age she's had a passion for drawing, specifically nature and the human figure. It is from this creative look on the world that she began to write stories.