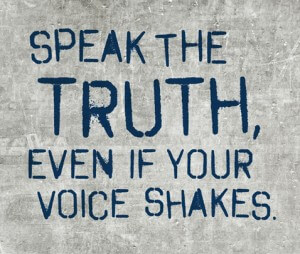 Psalm 117;2 (NASB), "For His lovingkindness is great toward us, And the truth of the LORD is everlasting. Praise the LORD!"
Webster's defines truth as
: the truth
: the real facts about something
: the things that are true
: the quality or state of being true
: a statement or idea that is true or accepted as true
And the word true is defined as
:agreeing with the facts
: not false
: real or genuine
The very essence of the truth is supposed to be something we can trust, something that isn't changeable, or corruptible. However, according to the world's definition it is none of those things. Over the ages philosophers and parents everywhere have been trying to get to the bottom of this mysterious truth.
Here are some of the world's ideas about truth.
It will never be possible by pure reason to arrive at some absolute truth. ~Werner Heisenberg, Physics and Philosophy
There is no Truth. There is only the truth within each moment. ~Ramana Maharshi, attributed
Every truth bends and reshapes itself or is reshaped by other forces. ~Leslie Woolf Hedley
There is no truth. There is only perception. ~Gustave Flaubert
And let's not forget the famous words of Pontius Pilate, "What is truth?" (John 18:38)
If it wasn't obvious to you before, I hope it is now, the world has no idea what truth really is. God tells us in His word exactly what the truth is. It is not a collection of facts, it is not just something that is accepted as true, it is not elusive, it doesn't reshape itself, and it most definitely is. The Truth is Jesus Christ, the Word made flesh. God's word is truth.
John 1:14 (NIV), "The Word became flesh and made his dwelling among us. We have seen his glory, the glory of the one and only Son, who came from the Father, full of grace and truth."
Facts can tell us that we have cancer; God's word tells us that we have been healed by the stripes on Jesus back.
Facts tell us that we can't change who we are, but God's word tells us that He has made us as new creations, that all things are brand new to those who have given themselves over to Him.
The truth, God's truth sets us and continues to make us free.
Free from what? Sin, our past, the lies of the devil, the bad reports from the world, and even our own stinkin' thinkin'.
God's truth never changes, ever. It is set in stone, engraved on our hearts. Circumstances won't change it, public opinion can't change it, and no matter how we might try to manipulate and misinterpret it, it stands in itself, as TRUTH.
John 14:6 (NIV), "Jesus answered, "I am the way and the truth and the life. No one comes to the Father except through me."
Now let's read Psalm 117 again.
Psalm 117 (KJB), "O praise the LORD, all ye nations: praise him, all ye people. For his merciful kindness is great toward us: and the truth of the LORD endureth for ever. Praise ye the LORD."
His truth is everlasting, it endures forever.
Aren't you glad.